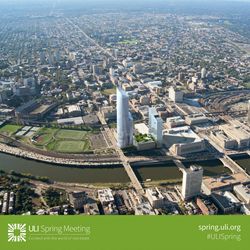 Washington, DC (PRWEB) March 16, 2016
How is creative place making transforming cities across the United States? That will be a major focus for this year's Urban Land Institute (ULI) Spring Meeting, which will take place at the Pennsylvania Convention Center in Philadelphia on April 19 to 20, 2016.
A signature feature of all major ULI conferences are the mobile tours offered to attendees. This year, several mobile tours are planned to showcase Philadelphia's progress in this urban evolution, including tours of developments in University City, the Navy Yard, Center City, East Market Street, North Broad Street, and West Market; as well as a tour of public spaces along Benjamin Franklin Parkway; a biking tour along the city's urban trail; and a tour of redevelopment in Camden, New Jersey.
Request your complimentary press pass today.
Both FiveThirtyEight Founder and Editor-in-Chief Nate Silver and Vanguard Chairman and Chief Executive Officer F. William McNabb III are headlining an impressive list of keynote speakers. In addition to Silver and McNabb, a high-profile discussion entitled "A New National Housing Policy" will feature former U.S. Senator Scott Brown, (R-Massachusetts); Daryl Carter, chairman and chief executive officer of Avanath Capital Management; Renee Glover, founder and managing member of the Catalyst Group LLC; and J. Ronald Terwilliger, founder of the ULI Terwilliger Center for Housing and chairman of Terwilliger Pappas Multifamily Partners.
In addition to these main sessions, there will be more than 20 real estate sessions are planned on an array of topics such as: the long-term industry forecast, successful public-private partnerships, reclaiming the waterfront, the latest in retail development, trends in transit-oriented development, anchor institutions as economic development catalysts, innovative housing design, and the future of suburbs.
This ULI meeting, open only to full members, the media, and the public, brings together the top thought leaders and practitioners for candid discussions about what works, what doesn't, and what's next for the industry. The Spring Meeting routinely draws nearly 3,000 attendees, including renowned industry experts from around the world providing insights on all aspects of real estate. Join us in Philadelphia to hear prominent guest speakers, knowledgeable panelists, and attend content-rich real estate sessions. Request your complimentary press pass today.
Attendees with a press pass enjoy many benefits, including:

Entry to all concurrent sessions and keynote addresses
Access to the most influential leaders in real estate
Access to the ULI Press Room, equipped with complimentary Wi-Fi and workspace
Press passes do NOT guarantee access to Spring Meeting mobile tours. To request a ticket for an individual tour, please contact rkrueger(at)uli(dot)org
Note to Reporters and Editors: Registration is free to members of the media; to register, please fill out this brief online press registration FORM.
About the Urban Land Institute:
The Urban Land Institute is a global nonprofit education and research institute supported by its members. Its mission is to provide leadership in the responsible use of land and in sustaining and creating thriving communities worldwide. Established in 1936, the Institute has over 37,000 members representing all aspects of land use and development disciplines.