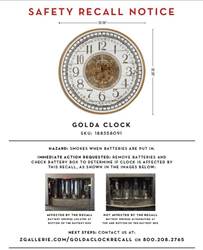 Los Angeles, CA (PRWEB) March 10, 2016
Recall Summary
Name of Product: Golda Wall Clock
Hazard: The batteries inside the clock can overheat due to defective battery springs located at the bottom of the battery compartment, posing a fire hazard.
Remedy: Refund
Consumers should immediately remove the batteries from the clocks and contact Z Gallerie for a full refund and $50 Z Gallerie gift card
Consumer Contact: Z Gallerie at 800-208-2765 anytime or online at http://www.zgallerie.com and click on Safety Recalls at the bottom of the page.
Recall Details
Units: About 450
Description: This recall includes Golda wall clocks. The clocks are round and measure 32 inches in diameter and four inches in depth. The front of the wall clocks is made of glass and has a white background. "Invented in 1698" is printed on the front of the clocks. The numbers printed on the clock and clock hands are printed in a brown antiqued ink. The battery compartment on the back holds one AA battery and four D batteries. "Made in China" and "Made for Z Gallerie" are printed on a label on the back of the clocks.
Incidents/Injuries: None reported
Sold at: Z Gallerie stores nationwide and online at ZGallerie.com between July 2015 and January 2016 for about $400.
Importer/Retailer: Z Gallerie, of Gardenia, Calif.
Manufactured in: China
About Z Gallerie
Headquartered in Los Angeles, Z Gallerie is a fashion forward lifestyle brand focused on the home. Since 1979, the brand has inspired interior decorators and stylish influencers with cutting edge design and sophisticated, accessible furnishings. Each season, Z Gallerie offers the latest ideas in furniture, art, home decor and entertaining tailored to each individual's personal style aesthetic. A catalog, a full online presence at zgallerie.com and 60 stores nationwide keep the iconic Z Gallerie name in the fashion home space.
About U.S. CPSC:
The U.S. Consumer Product Safety Commission is charged with protecting the public from unreasonable risks of injury or death associated with the use of thousands of types of consumer products under the agency's jurisdiction. Deaths, injuries, and property damage from consumer product incidents cost the nation more than $1 trillion annually. CPSC is committed to protecting consumers and families from products that pose a fire, electrical, chemical or mechanical hazard. CPSC's work to ensure the safety of consumer products - such as toys, cribs, power tools, cigarette lighters and household chemicals – contributed to a decline in the rate of deaths and injuries associated with consumer products over the past 40 years.
Federal law bars any person from selling products subject to a publicly-announced voluntary recall by a manufacturer or a mandatory recall ordered by the Commission.
To report a dangerous product or a product-related injury go online to http://www.SaferProducts.gov or call CPSC's Hotline at 800-638-2772 or teletypewriter at 301-595-7054 for the hearing impaired. Consumers can obtain news release and recall information at http://www.cpsc.gov, on Twitter @USCPSC or by subscribing to CPSC's free e-mail newsletters.
CPSC Consumer Information Hotline
Contact us at this toll-free number if you have questions about a recall:
800-638-2772 (TTY 301-595-7054)
Times: 8 a.m. – 5:30 p.m. ET; Messages can be left anytime
Call to get product safety and other agency information and to report unsafe products.
Media Contact
Please use the phone numbers below for all media requests.
Phone: 301-504-7908
Spanish: 301-504-7800