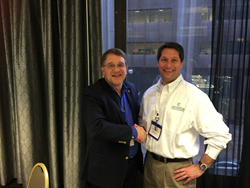 Baltimore, MD (PRWEB) March 10, 2016
ZeroedIn Technologies, a leading provider of cloud workforce intelligence solutions, proudly congratulates Keith Goode, Vice President of Client Services at ZeroedIn, on winning the IHRIM Data Hero Analyst Challenge held last week in Chicago at the IHRIM Workforce Analytics Forum. The IHRIM Data Hero Analyst Challenge is a fun event that allows for human resource (HR) analysts to showcase their abilities, tools, and skill sets in an "Iron Chef" style competition. One week before the competition, analysts were given a fictitious 5 year dataset containing turnover, movement, and various demographics for an organization. Their goal was to analyze the data and on the day of the challenge create a report, dashboard, info graphic or other tool within 30 minutes in front of a live audience that provides actionable insights and innovative visualizations or techniques.
While some analysts used tools like Tableau or Microsoft Excel with custom Visual Basic extensions, Mr. Goode used ZeroedIn's Workforce Intelligence Platform to analyze the dataset and create a series of visual, fact-telling stories around compensation, diversity, turnover, leadership, and performance.
After the 30 minute development session, the audience scored each of the analyst's creations on the following criteria:

Storytelling: How original was the story or angle the analyst took? How novel were the insights gained?
Understandability: How easy was it to understand what the dashboard, report, or infographic was trying to accomplish?
Visual Design/Aesthetics: Was it visually appealing or cluttered and confusing? How was the overall look and feel? How well does the information flow together?
Applicability: Was the data being presented in the most appropriate way? Did it answer relevant questions? Did the tool drive actionable insight?
Technical Design/User Experience: Did the analyst use good practices "under the hood" for their tool? Was it easy to use the tool? Did they follow leading practices?
After the scores were tallied, Mr. Goode was announced as the winner of the competition. "I'm honored to take the crown in this event but I have to give credit to the ease and efficiency of ZeroedIn's Workforce Intelligence Platform as my real key to success", said Mr. Goode. IHRIM intends to make the Data Hero Challenge an ongoing part of its Workforce Analytic Forum series.
About ZeroedIn Technologies (LLC)
ZeroedIn designs workforce intelligence solutions to help clients make better use of their own data. Its workforce intelligence software collects and unifies data from cloud and on-premise HR, talent, and business systems to create sustainable, visual stories that clients can share, collaborate around, and use to support workforce decisions. Clients rely on ZeroedIn to measure and analyze human capital factors such as turnover, contingent labor, employee fraud, skill shortages, revenue leakage, and other key areas that impact profitability and competitiveness.