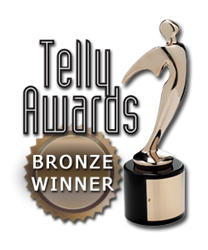 We are proud to partner with DMG Productions and RFD-TV to provide this beneficial forum to educate and answer questions.
Jupiter, FL (PRWEB) March 12, 2016
The Telly Awards has named Harvest Energy Solutions as a bronze winner in the 37th Annual Telly Awards for their piece titled American Farmer: Solar on the Farm. The segment was produced by DMG Productions and broadcast nationwide as part of the American Farmer TV series on RFD-TV. With nearly 12,000 entries from all 50 states and numerous countries, this is truly an honor.
Renewable energy can be used in agriculture in a number of ways – saving money, increasing self-reliance, and reducing carbon emissions. The American Farmer: Solar on the Farm program video provided the perfect vehicle to educate homeowners, farmers and business owners across the country, on the value of installing renewable energy systems to improve their operational costs. Many farms and agribusinesses, with their open acreage and/or large buildings, can install enough solar energy to pay their entire electric bill, or at least reduce costly seasonal electricity rates.
"We realize that educating the agricultural community on the value of renewable energy is critical to helping the interested buyer in making an informed decision," said Cathie Hartung, Director of Marketing for Harvest Energy Solutions. "We are proud to partner with DMG Productions and RFD-TV to provide this beneficial forum to educate and answer questions."
The Telly Awards was founded in 1979 and is the premier award honoring outstanding local, regional, and cable TV commercials and programs, the finest video and film productions, and online commercials, video and films. Winners represent the best work of the most respected advertising agencies, production companies, television stations, cable operators, and corporate video departments in the world.
For its 37th season, The Telly Awards once again joined forces with YouTube to give the public the power to view and rate videos submitted as part of the People's Telly Awards. In addition to recognition from the Silver Telly Council, the judging panel that selects the Telly Awards winners, the Internet community helps decide the People's Telly Awards winners.
A prestigious judging panel of over 500 accomplished industry professionals, each a past winner of a Silver Telly and a member of The Silver Telly Council, judged the competition, upholding the historical standard of excellence that Telly represents. The Silver Council evaluated entries to recognize distinction in creative work – entries do not compete against each other – rather entries are judged against a high standard of merit. Less than 10% of entries are chosen as Winners of the Silver Telly, our highest honor. Approximately 25% of entries are chosen as Winners of the Bronze Telly.
"The Telly Awards has a mission to honor the very best in film and video," said Linda Day, Executive Director of the Telly Awards. "Harvest Energy Solution's accomplishment illustrates their creativity, skill, and dedication to their craft and serves as a testament to great film and video production."
"We are very proud of this project and the results it produced," stated Hartung. "It shows was a great team effort can accomplish."
To find out more about the Telly Awards visit our website at http://www.tellyawards.com.
About Harvest Energy Solutions
Harvest Energy Solutions is a full-service distributor and installer of renewable and energy saving products, specializing in rural, agricultural and commercial energy solutions throughout the Midwest. Since 2006, Harvest Energy Solutions' goal has been to assist farmers and ranchers, businesses and home owners, in becoming more sustainable, efficient and energy independent. Our products include solar and wind energy systems, HVLS fans, solar water pumps, solar charging tables, log cabins and storm shelters. For more info visit http://www.HarvestEnergySolutions.com or call 1-877-788-0220.
Contact Info:
Cathie Hartung, Director of Marketing
Harvest Energy Solutions
chartung(at)harvestenergysolutions.com
517-788-8800x713
-END-