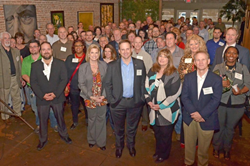 'When I need something I feel the staff listen and truly want to do what we need. Having worked with economic development groups in other states, I think KEDC has been one of the better relationships we've had. '
Kilgore, Texas (PRWEB) March 15, 2016
Kilgore Economic Development Corp. celebrated industry by inviting more than 100 economic development partners to an annual gathering in Kilgore, Texas.
'Industry makes Kilgore a special place,' said KEDC Board President Pat Nault. 'Industrial property has a dramatic influence and plays a vital role in reducing the overall tax burden.'
According to the 2015 Report on Property Tax Values by ctmi, the industrial sector in Kilgore remains the dominant factor to the tax base, outpacing both the residential and commercial sectors. The report cites the per capital value of industrial property at $31,189, almost four times larger than surrounding cities.
'It is our commitment to serve industry well,' said KEDC Executive Director Amanda Nobles. 'They make a tremendous contribution to the Kilgore economy not only in reducing the tax burden, but also in creating jobs.'
After healthcare, the next largest industries in terms of the local economy's job base are part of the goods producing sector at 20%, well above the state and national levels.
Representatives of industry in Kilgore returned the respect.
'I've chosen locations for distribution centers in three states. KEDC put together the best package I've seen,' said Vic Price, vice president of distribution in the Southwest region of Orgill, Inc. 'And I get support from staff I've not seen in other locations.
'When I need something I feel the staff listen and truly want to do what we need. Having worked with economic development groups in other states, I think KEDC has been one of the better relationships we've had.'
About Kilgore EDC: Kilgore Economic Development Corporation is an organization founded in 1990 and funded by a dedicated sales tax approved by voters. It is directed by a five-person board and managed by a staff of four with certifications in economic development and economic development finance. KEDC has won international awards for excellence in economic development. During the past fiscal year, KEDC landed projects representing almost $15 million and more than 500 jobs.