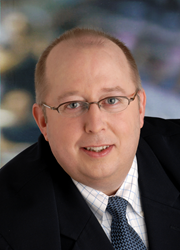 In this role, Mike will be in a position to champion Microsoft Dynamics CRM, helping our customers see its potential, take advantage of it, and get better ROI faster. – Kostas Tzigizis, COO
NEWTON, MA (PRWEB) March 10, 2016
Green Beacon, a leading provider of solutions built on Microsoft Dynamics CRM and experts in helping organizations operationalize their business strategies, announced that it has tapped customer relationship management (CRM) and customer experience management (CEM) expert Michael Hammons for the role of Director of Customer Experience, a newly created position within the organization.
A thought leader and subject matter expert, Hammons is highly experienced in CEM, CRM, business intelligence, and mobile strategy. For more than 20 years, he has applied his unique experience and insights on using technology to help transform businesses including Hewlett Packard, Hitachi, NEC-Mitsubishi, and Ricoh.
In this position, Hammons will lead initiatives to ensure a consistent, positive experience for every customer, from setting expectations in the first meeting through ensuring satisfaction upon project completion and beyond. He will also help customers identify different ways to leverage their existing technology investments to address new initiatives and make continuous process improvements.
After 15 years in business, Green Beacon recognized that the traditional approach used by most technology consulting firms to maintain their customer relationships is no longer effective. Today's customers need more than a relationship manager or account manager to serve as their point person. In addition to someone who can stay abreast of their needs and goals, Customers need an expert with a deep understanding of the product and supporting technologies to envision how they can be used to enhance their business. The position of Director of Customer Experience was created to fill this role.
"We have been looking for exactly the right person for this role, and we feel absolutely confident we found that in Mike," said Kostas Tzigizis, Chief Operating Officer of Green Beacon. "His ability to listen to customers, understand their objectives, and create innovative solutions, as well as his natural customer-centric view and ability to instill confidence makes Mike the ideal fit for the position. After meeting him for the first time, we felt that he was already a part of our team and understood that his only objective is to enhance the experience and value we deliver to clients."
Specializing in large-scale, enterprise implementations, Green Beacon works collaboratively with customers to understand their strategic initiatives. With that understanding, the company's industry and technology experts take full advantage of the power Dynamics CRM offers to architect solutions that operationalize those initiatives.
"In my experience, internal metrics focused on utilization don't always align with customer needs. The app and mobile world, which center on the customer experience, have inspired businesses to rethink how they interact with their customers," said Hammons. "While this viewpoint is new in the consulting world, Green Beacon understands its significance and has taken a proactive approach by creating this position."
"As a former channel manager, I was familiar with Green Beacon and knew they have a unique mindset that is focused on the relationship rather than technology," he continued. "However, they further impressed me with their dedication to this new paradigm and their understanding of how it could help take their customers where they want to go. I am excited about the prospect of helping the company build a Customer Experience team and what that team will be able to do for their customers."
"The constant changes in our clients businesses and continuous evolution of Microsoft Dynamics CRM platform create the need to always realign process with technology," Tzigizis continued. "In this role, Mike will be in a position to champion Microsoft Dynamics CRM, helping our customers see its potential, take advantage of it, and get better ROI faster."
Microsoft Dynamics CRM is the world's leading customer relationship management (CRM) suite, with the capability to help businesses of all sizes uncover, win, and grow customer relationships. However, its power and flexibility have propelled it beyond a traditional tool for sales and marketing, empowering businesses to use it as operational platform. Organizations across industries can create entirely new solutions that integrate into virtually any existing line of business application.
About Green Beacon
Since 2001, Green Beacon has been implementing and supporting business solutions built on leading customer relationship management (CRM) software platforms, including Microsoft Dynamics CRM. A Microsoft Gold Certified Partner, Green Beacon specializes in large-scale implementations that put clients' strategies into operation. By combining deep technical expertise with years of experience in a range of industries—from the public sector to financial services—Green Beacon works closely with companies to transform the way they do business or address challenges putting their success at risk. This highly collaborative approach has earned us an unmatched reputation for delivering ongoing return on investment. The company is headquartered in Newton, Massachusetts with offices throughout the United States. To learn more, visit http://www.greenbeacon.com