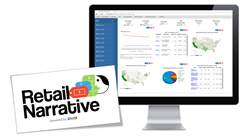 (RetailNarrative's) "virtual eyes" that assure no important detail buried in thousands or millions of rows is ignored. -Jim Lewis, Founder and CEO of Enhanced Retail Solutions
New York, NY (PRWEB) March 15, 2016
Enhanced Retail Solutions (ERS), a leading provider of Software-as-a-Service (SaaS) retail analytic and demand planning solutions to suppliers, licensors and their retail trading partners, announces a webinar to showcase their new software: RetailNarrative
Enhanced Retail Solutions harnessed its many years of consulting experience to create this cloud based offering. The software will comb through data (just like its consultants would), asking the questions they would to present the user the most actionable pieces of information in dashboard with a concise narrative explaining what the user looking at. The software learns as it goes, revising its understanding of trends, finding the most actionable information for the week and adjusting to the user's preferences. It is truly virtual "eyes" sifting through sku-store combinations to find low level and high level recommendations. When the dashboard is opened, all the results have already been derived and the selections and interactions are instant.
This software eliminates worry about the experience or bias of the people running the reports and enables those same people to take immediate action based on the answers to questions the users may not even thought to ask.
"Our experience in the retail industry has led us to conclude that the people with experience don't have the time and the people with the time don't have the experience to effectively utilize Retail Point of Sales data, leaving unrealized sales and profit gains" says Jim Lewis, founder and CEO of Enhanced Retail Solutions. "Those without planning background who do not know where to look or what to do with the information now have "virtual eyes" that assure no important detail buried in thousands or millions of rows is ignored".
The Webinar will be held on Thursday, April 7th at 1:00 PM – 2:00 PM ET.
Attendees may register at: http://bit.ly/erswebinar
About Enhanced Retail Solutions LLC:
Enhanced Retail Solutions is a software and consulting firm specializing in retail analysis and demand planning for manufacturers, licensors and their retail partners. ERS' state of the art software tools and consulting deliver critical data quickly, easily and cost effectively, adding over one hundred million dollars to their clients' bottom line. ERS' broad customer base includes industry leaders in the electronics, consumer products, apparel, footwear, home textile, toy, home décor, home improvement, housewares, jewelry and food industries. Headquartered in New York City, Enhanced Retail Solutions has offices in the Dallas, TX and development in the US, Cork, Ireland and Delhi, India. For more information, visit http://www.EnhancedRetailSolutions.com.