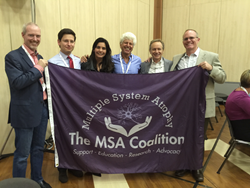 The MSA Coalition has already been very influential through the choices they have made with their research dollars.
Charlotte, NC (PRWEB) March 10, 2016
The Multiple System Atrophy (MSA) Coalition today announced their latest call for research applications in this, the third year of their MSA Research Grant Program. In the interest of identifying the most promising research opportunities for multiple system atrophy, a rare and fatal neurodegenerative disorder the MSA Coalition is issuing this worldwide Request for Applications (RFA) for investigator-initiated studies. Applicants should submit research proposals that can address the cause, prevention, improved treatment or diagnosis, and ultimately provide insights that will lead to a cure for multiple system atrophy. Approximately $500,000 will be awarded this year with an average grant award of nearly $50,000.
Dr. David Robertson, M.D., Professor of Neurology, Vanderbilt University Medical Center, and Chairman of The MSA Coalition Scientific Advisory Board released this statement, "Since the launch of the MSA Research Grant Program in 2013, The MSA Coalition has funded 17 projects with "seed grants" for a total of over $600,000. Seed grants, although relatively modest in dollars, create a definite impact on research and especially for this rare and under-funded neurodegenerative disease."
The intent of the MSA Coalition's Research Grant Program is to jump-start new and innovative ideas and provide investigators the means to gather data in early-stage pilot studies. MSA Coalition funded studies with the most promising results can then complete more robust applications for submission to the National Institutes of Health or other major funding institution to further validate findings on a larger scale and with human subjects. As the MSA Coalition's grant program grows and evolves, funding for these larger studies could potentially be, at least in part, funded directly by the nonprofit.
"Indeed, the MSA Coalition has already been very influential through the choices they have made with their research dollars, continued Dr. Robertson. "The NIH has taken notice and recently awarded another five years of funding for the Autonomic Rare Disease Clinical Research Consortium (ARDCRC) on the strength of the international collaboration of the Global MSA Registry, financially and otherwise supported by the MSA Coalition Research Grant Program. This has served to help bring North American and European researchers into a single global outreach to discover the cause and hopefully a cure for MSA. I can truly say the support of the Multiple System Atrophy Coalition has been and continues to be critical to creating the link that brings worldwide MSA investigators together."
Among the very first group of MSA Coalition research grant recipients in the inaugural year of the program was Vikram Khurana, M.D. PhD for his project, "Stem cell-based Therapeutics Platform for Multiple System Atrophy". Dr. Khurana states, "I had been developing stem cell-based approaches for drug discovery in Parkinson's disease. The MSA Coalition seed grant gave me the vital research support to apply my findings to multiple system atrophy, a disease I had been focusing my efforts on in the clinic. This has led to tremendous research, clinical and funding opportunities for me - indeed, I was recently recruited to a major academic center in Boston to specifically build a clinical and research program centered on multiple system atrophy and related disorders. None of this would have been possible without the MSA Coalition's support".
The Multiple System Atrophy Coalition accepts research grant applications from researchers located anywhere in the world. With such a rare disease and knowing the urgent need for improved treatments and ultimately a cure, it is important that no stone be left unturned. Taking a world view on research has led to increased collaboration and sharing of ideas. Collaboration is something strongly encouraged by the MSA Coalition and project proposals that have a strong collaborative component definitely are being given more attention during grant review time.
Dr. Nadia Stefanova, M.D. PhD heads the laboratory for Neurodegenerative Disease Research at the Medical University of Innsbruck Austria. Dr. Stefanova in collaboration with Dr. Gal Bitan at UCLA received a research grant from the MSA Coalition in 2015 for the project "Targeting Alpha-Synuclein Pathology with the Molecular Tweezer CLR01 in MSA". Dr. Stefanova states, "Over the past few years the expanded support of the MSA Coalition has provided a platform that attracts the attention of a broader range of scientists to re-focus on multiple system atrophy and even mediates international collaboration in the field, resulting in a budding global network focused on curing MSA. The research grant I received from the Multiple System Atrophy Coalition made it possible to launch a fruitful collaboration with Gal Bitan at UCLA and test for the first time pre-clinically, a molecular tweezer for the therapy of MSA. Our preliminary results strongly support the approach and we are confident to be on the right track towards a successful treatment for this devastating disease. I am grateful to the MSA Coalition for giving me a chance to make a difference!"
Researchers around the globe interested in multiple system atrophy are invited to visit the MSA Coalition web site, http://www.multiplesystematrophy.org for access to the RFA and instructions for submitting a pre-proposal. Pre-proposals are due May 10, 2016, 5:00pm U.S. Eastern Time. For any questions about the program or to request an introduction to a potential scientific collaborator, please email [email protected]