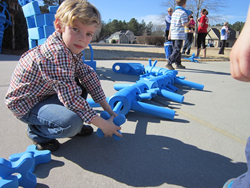 "With Connectors, we're seeing kids clamp, couple, link, and create joints and junctions. I can't think of a more powerful way to fuel children's ingenuity and their drive to dream and invent."
New York, NY (PRWEB) March 18, 2016
Imagination Playground, LLC, http://www.imaginationplayground.com, creators of the breakthrough Big Blue Blocks play space concept that encourages child-directed, unstructured free play, announced today the introduction of its new Connectors set into the Imagination Playground family of products.
Connectors is a kit of parts suitable for use in a classroom setting and a variety of indoor and outdoor sites that provide children the opportunity to engage in open-ended, free play. A key differentiating feature of Connectors is the incorporation of over 12 new shapes allowing for movable parts and more stable joints, enabling children to engage in advanced forms of construction activity, such as the building of simple machines, insects, costumes, and vehicles.
David Krishock, President and CEO of Imagination Playground said, "With the Big Blue Blocks we introduced all the creative block stacking, connecting, and channeling imaginable. Now, with Connectors, we're seeing kids clamp, couple, link, and create joints and junctions. I can't think of a more powerful way to fuel children's ingenuity and their drive to dream and invent."
Imagination Playground's Connectors are an appropriate, engaging, and effective STEM tool for learning through exploring mechanical connections and structures. Observational studies on children playing with Connectors showed that this new building set appeals not only to early childhood audiences, but even more so to children ages 7 and up. Children playing with Connectors were observed to imagine and engineer robots, cars, insects, animals, characters, wearables, and numerous other creations demonstrating innovation beyond the act of simple construction. The movable parts and portability of their designs also added to the complexity of the dramatic and symbolic play activity that ensued after building.
The Connectors set supports both open-ended exploration and directed learning. Additional benefits provided include improved focus and persistence, increased agility, experimentation, and creative confidence, along with the development of fine motor skills.
The Connectors set consists of 16 different shapes, and can be used by itself or in conjunction with the Imagination Playground Medium and Big Blue Blocks.
To purchase and for questions, email ContactUs(at)imaginationplayground(dot)com or call 1-678-604-7466.
For more information about Connectors, visit
http://www.imaginationplayground.com/product/connectors-set.html
For more information about Imagination Playground, visit http://www.imaginationplayground.com
About Imagination Playground, LLC
Imagination Playground is a breakthrough play space concept developed to encourage child-directed, creative free play. The kind of play that experts say is critical to children's intellectual, social, physical and emotional development. Created by architect and designer David Rockwell and the Rockwell Group, Imagination Playground enables children to play, dream, build, and explore endless possibilities. Imagination Playground finds its home in daycare centers, kindergartens, elementary schools, children's museums—and science, nature, discovery centers, camps, community centers, children's hospitals, hotels, public parks and more—in North America and over 60 countries overseas. For more information, visit http://www.imaginationplayground.com