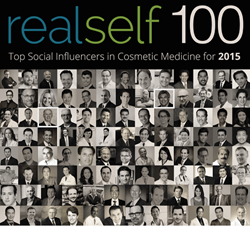 We dedicate a great deal of our time contributing to Real Self community, so it is a real honor to be recognized for our ongoing efforts.
Newport Beach, CA. (PRWEB) March 10, 2016
Dr. Jed H. Horowitz and Dr. Larry S. Nichter are two of just 100 doctors in the nation to receive the prestigious RealSelf 100 Award, out of nearly 13,000 board certified specialists with a presence on RealSelf; the leading online community for people interested in elective cosmetic procedures.
In a time when 1 in 4 U.S. adults share their health experiences on social media channels, the medical professionals that made the 2015 RealSelf 100 are recognized both for having an outstanding record of consumer feedback and for providing credible, valuable insights in response to consumer questions about elective cosmetic treatments, plastic surgery, dentistry and more.
For example, Drs Horowitz and Nichter own and operate the Pacific Center for Plastic Surgery and BioSpa in Newport Beach, CA. Their specialties include their exclusive LiteLift® modified facelift, California breast lift, breast augmentation, tummy tuck, and non-surgical body contouring. Both doctors have been in practice for over 30 years and have received countless awards for their contribution to the field of plastic surgery.
"The doctors receiving this award were among the top 1% of our 13,000-member doctor community in 2015," said Tom Seery, RealSelf founder and CEO. "When I started RealSelf, many doctors questioned why they should 'give away' their expertise 'for free' on the web. Now, eight years later — and with over one million doctor answers on our platform — we are proud of the standard this select group has set. They're leading the way by empowering millions of consumers to gain access to the information they need to make smart and confident health and beauty decisions."
Dr. Jed Horowitz and Dr. Larry Nichter are expert contributors to RealSelf with Dr. Horowitz answering over 5,000 questions on RealSelf, and Dr. Nichter answering over 9,000. Each month people from all over the world ask important aesthetic-related questions, such as "how early can capsular contracture start and what are the symptoms?" Both doctors also maintain a patient star rating of five out of five stars in RealSelf reviews. For more information about Dr. Horowitz or Dr. Nichter, please visit Pacific Center for Plastic Surgery.
About Pacific Center for Plastic Surgery:
Pacific Center for Plastic Surgery, located in Newport Beach, California is headed by two of Orange County's word-class plastic surgeons, Dr. Larry Nichter and Dr. Jed Horowitz. Both doctors have over 30 years of experience specializing in cosmetic procedures such as breast augmentation, breast lift and breast reduction, facelift, fat transfer, mommy makeover, and non-surgical treatments for the face, body and skin. Dr. Nichter and Dr. Horowitz are board-certified by the American Board of Plastic Surgery, and belong to the the American Society of Plastic Surgeons and The American Society for Aesthetic Plastic Surgery, the most exclusive plastic surgery societies in the United States. Dr. Nichter and Dr. Horowitz have received numerous awards over the years for their surgical expertise and patient care.