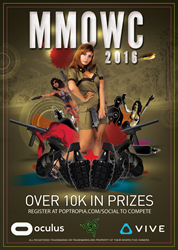 "The MMOWC is the most avatar centric event in e-sports today, some competitors avatars are over 10 Years old with tens of thousands of dollars in skill and equipment Value." Said MMOWC Founder and host Jon NEVERDIE Jacobs.
Los Angeles, CA (PRWEB) March 11, 2016
The MMOWC will be broadcast live on Twitch, starting with Round #1 open entry events on Saturday, March 12, at noon PST. The popular World Championship hunting event is geared towards players of popular MMORPG's and attracts the biggest guns in MMO gaming, seeking the glory of the World Champion title.
Prizes for the 2016 MMOWC include an assortment of Virtual Reality gear including the Oculus Rift and HTC Vive, plus highly coveted King Kong Tommy Guns and Snub nose pistols with combined market value in excess of $10,000 USD
Twitch viewers will also have the chance to win Rockbucks, the primary POPtropia cryptocurrency, in addition to Steel Series and Razer gaming gear by predicting the plays of the competitors in the live Twitch chat.
Previous MMOWC Final Events were hosted in Miami and Las Vegas during CES in 2007 and 2008 and online in 2009. The event was put on hold in 2010 when NEVERDIE sold his Virtual Asteroid inside Entropia Universe, where the actual competitions took place for $635,000 USD, setting a world record in the process. A new Club NEVERDIE Champions Park was designed specifically to host the MMOWC on a secret tropical island connected to Planet ROCKtropia. The first season of POPtropia Champions league events resumed in September 2015 and the e-sport has now been tweaked for live broadcasting on Twitch.
"The MMOWC is the most avatar centric event in e-sports today, some competitors' avatars are over 10 years old with tens of thousands of dollars in skill and equipment value," said MMOWC founder and host Jon NEVERDIE Jacobs. "The MMOWC hit a wall in 2009 because it just wasn't viable for traditional TV broadcasting. A new Club NEVERDIE stadium, better suited for spectator engagement, was built and, now utilizing Twitch, it's possible to have a spectator-friendly e-sports league and world championship that viewers can engage with. The MMOWC is a high octane e-sports hunting event that draws on the skills of MMO gamers as opposed to console gamers .The 2016 MMOWC will cast a spotlight on the rapidly rising stars of the sport."
About MMOWC
MMOWC is the MMO World Championship e-sports hunting tournament hosted at Club NEVERDIE in Entropia Universe. The MMOWC is unique in e-sports because competitors must rely heavily on their personal avatar skills and equipment combined with a sharp hunting strategy to score bonus point combinations. Visit http://www.MMOWC.com for details
About Entropia Universe
Entropia Universe is the largest Real Cash Economy Massively Multiplayer Online Virtual Reality Platform in the world. Entropia Universe offers players the ability to participate in a Multi­-World Virtual Reality system with interoperable Avatars and tools where they have no monthly costs. Its innovative real money economy uses a virtual currency which has a fixed exchange rate with the US dollar.Entropia Universe uses a state of the art graphics engine to deliver the highest quality visuals in an MMO today.
Press Contact:
Phone 310-941-3000
info(at)poptropia(dot)com