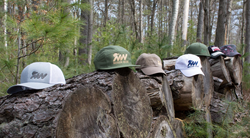 It's about doing something different and unique while having fun....
Tilton, NH (PRWEB) March 11, 2016
Nogginwear, the First & Only Premium Hat Membership Co-Founded by 3 regular guys from New England; Scott Weldon, CEO, Bob Callahan, COO and Chris Lambert, CFO. The concept came to life sitting around a table at Starbucks sketching out how to make hats fun, unique, one of a kind and delivered right to our member's door each month. The team has well over 20 years of industry experience designing hats of all styles, fabrics and applications for companies all over the world.
"The concept of a uniquely designed hats hit us about a year ago while watching family and friends ripping open gifts with sheer excitement not knowing what was inside. Our concept, our passion, is to recreate that feeling of joy and excitement for our members each month, we call this hatisfaction" says Mr. Weldon, Co-Founder & CEO.
Nogginwear is totally unique and different by not just manufacturing a different premium retail quality hat each month for our monthly members but taking it up a notch with our Limited Edition series, the Artist Series and the Food & Cocktail Series. For the Artist Series Nogginwear will be working with art students, up-and-coming artists, and well known artists. Nogginwear will be working with the likes of Sergio Aragonés, creator of Groo the Wanderer for Mad Magazine and Scott Shaw! who is known for his work with Hanna-Barbera, Marvel Comics, DC Comics and the Simpsons Comic. Our business model is also about giving back through established partnerships with nonprofit organizations like One Mission Pediatric Cancer Foundation, Framingham, MA where Nogginwear has plans to work with the kids to design a custom hat to help fund their cause. For the Food & Cocktail Series Nogginwear will be working with famous, infamous and soon to be famous mixologists wanting to get their drink creation out to the masses through designing hats based on their concoctions as well as working with spirit companies like Boca Loca, wine companies like Sexy Wines, awesome craft beer companies like Jack Abby and so much more. "Our hatologists will use their decades of design experience and create a uniquely designed hat every month and ship it right to your door. The designs our hatologists can come up with are endless! We are calling this the hatapaloza movement" continues Mr Weldon, Co-Founder & CEO.
"It's about doing something different and unique while having fun and providing a top quality product and sharing it with our members via Facebook, Twitter and Instagram not to mention it's a great gift for the hard to buy for person" say Mr. Lambert, Co-Founder and CFO.
Choosing Kickstarter as our forum to launch is a way to bring awareness of our movement and the ability to show a wicked cool product. "Back our project, become a member, like us on Facebook, follow us on Twitter & Instagram - If you love hats like we do I guarantee you will love our product. Nogginwear is all about our passion and our deep desire to share it with our social network and members." continues Mr. Weldon. "We would love nothing more than to exceed our Kickstarter goal, do the jig and have you be part of our family".