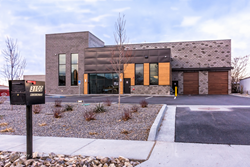 New Grain to Glass Distillery
South Salt Lake, UT (PRWEB) March 09, 2016
Dented Brick Distillery will officially commence operations Friday, March 25th, with a ribbon cutting ceremony starting at 11 am. The Grand Opening Celebration will continue until 6 pm Friday night and will continue on Saturday, March 26th, from 11 until 6 pm.
Following the ribbon cutting Friday, which will be performed by members of the South Salt Lake Governing body and South Salt Lake Chamber Bureau, the distillery will be offering tours of the new 14,000 square foot facility. In addition, the distillery plans to offer a farmers market type bizarre with wares on display and for sale by local merchants. Vendors include Vanderhall Motor Works, displaying their made in Utah three wheel roadster, LaborMax, Universal Business Insurance, Indulge Eats, Rundown Rustics, maker of bars and furniture used throughout the distillery, OTW Safety, The Bean Whole, Olio Skin Care, DeVour Magazine, City Weekly, Bar X, Metro Bar, Bricks, Poli-Rican and more! Food trucks will be on site, and music will be provided by Hot House West.
Metro Bar will be offering Antelope Island Rum during their Dance Evolution Event on Thursday March 24th, and Brix will be offering Antelope Island Rum Saturday night, March 26th at their Party Hard Event. Bar X will be offering Antelope Island Rum throughout the duration of the event, a short UTA Trax ride from the distillery on the 25th and 26th.
Inside the walls you will see how we bring together the old and the new to create spirits we love. Spirits that start with distiller-selected fine raw materials and artesian water. Spirits produced entirely in house with no shortcuts. We promise to put our passion and commitment in every bottle and to create a community around every glass. We are innovators who maintain respect and love for tradition.
In the spirit of Antelope Island comes our first entry to the marketplace, Antelope Island Rum. We know authentic rum flavor and taste come from innovating while honoring the history of rum and rum making. Firmly rooted in the tradition of the finest rums, we mash, ferment, and distill on site using only the highest quality ingredients - organic sugar cane, rich molasses, aromatic yeast, and pure water.
Welcome to Dented Brick Distillery. We invite you to visit and experience our vision.