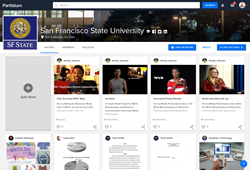 ePortfolios allow students to bridge what is learned from academic contexts to their professional goals - Andrea Taylor, SF State
Austin, TX (PRWEB) March 10, 2016
Portfolium, Inc's founder and CEO Adam Markowitz will be speaking today on a panel discussion at the SXSW EDU conference held in Austin, Texas. The panel discussion, entitled, "What Higher Ed Can Learn from Uber and AirBNB," will focus on data's disruptive potential in the marketplace for learning and talent. Educators and employers are encouraged to attend and join in the discussion.
Portfolium today also announced a new strategic partnership with San Francisco State University (SF State), a recognized leader in the movement toward competency based assessment and use of ePortfolios in academia. Portfolium's ePortfolio platform will be leveraged internally by students and faculty who will prep and assess students, and externally by employers who will match job and internship openings to students' assessed skills.
"ePortfolios allow students to bridge what is learned from academic contexts to their professional goals. By the end of a course of study, SF State students have cultivated signature ePortfolio entries that demonstrate valuable skills, competencies, and achievements to potential employers," said Andrea Taylor, Instructional Designer, Academic Technology at San Francisco State University.
Portfolium will put all 33,000+ SF State Students directly into its talent matching marketplace, giving students an immediate advantage by indexing proof of all their skills, rather than just those that can be summarized in a short resume.
"We think that the widely-discussed skills gap is largely a data gap. By adding in 4 years of work samples and class projects, SF State students can put all of their competencies on an employer's radar like never before," said Adam Markowitz, founder and CEO of Portfolium.
About Portfolium
Portfolium partners with colleges & universities to help students transform learning into opportunity. Our ePortfolio network helps 5M+ students and alumni from over 150 partner institutions manage their skills and launch their careers. Portfolium's cloud-based platform empowers students with lifelong opportunities to capture, curate, and convert skills into job offers, while giving learning institutions and employers the tools they need to assess competencies and recruit talent.
About SF State
SF State is a public comprehensive university located in San Francisco, California. As part of the 23-campus California State University system, the university offers 118 different Bachelor's degrees, 94 Master's degrees, 5 Doctoral degrees including two Doctor of Education, a Doctor of Physical Therapy, aPh.D in Education and Doctor of Physical Therapy Science, along with 26 teaching credentials among six academic colleges.