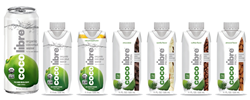 Culver City, CA (PRWEB) March 10, 2016
Coco Libre, an innovation pioneer for the coconut water category, is unveiling a new product line, new packaging formats and a beautifully contemporary brand refresh, delivering on the promise to "liberate your thirst." The innovations reflect the company's energized strategic mission: creating coconut water products with a purpose.
The Organic Coconut Water is now available in a 15 oz. aluminum can. The new package broadens distribution potential and answers the company's research that shows some consumers preferring Organic Coconut Water in an aluminum can.
"We brought organic coconut water to the U.S. market, and now we're focused on coconut water's broader nutritional promise," said Candace Crawford, CEO of Maverick Brands, Coco Libre's parent company. "How do you bring that greatness to people in new and exciting ways? How do you give people the choice of Organic Coconut Water in a place or moment where they haven't had it before? For a purpose they haven't thought of yet? We're focusing all our energy on expanding the places people can find healthy refreshment or a snack alternative. We're growing the number of ways people can choose to bring coconut water nutrition into their routine, day and night."
Coco Libre has additional products in the R&D pipeline, to be announced later this year, that will further differentiate the company's offerings and excite our retail customers and consumers. The packaging innovation was timed to coincide with the introduction of the new brand look, which updates the company's signature elements.
"Coco Libre has previewed the innovations to key retail customers over the past several months and the response has been overwhelming,"' said John Slee, Vice President of Sales for Coco Libre.
Coco Libre was the first company to bring organic coconut water to the U.S. market and market a coconut water with protein beverage. Coco Libre products are always made in the U.S.A. and formulated from the foundation of its signature Organic Coconut Water, known for delicious flavor with no added sugar, certified USDA organic, OU kosher, gluten free and Non-GMO Project Verified. Every product extends Coco Libre's brand promise to "liberate your thirst."
ABOUT COCO LIBRE
Coco Libre's flagship Organic Coconut Water is the nutritional foundation for a growing family of purposeful beverages. Coco Libre is a 2015 NCW Eco-Excellence Award winner and a finalist for Best New Product Line Extension at the World Beverage Innovation Awards 2014. Coco Libre beverages, made in the U.S.A., are available in grocery, natural, specialty and online retailers in the U.S. and Canada. To learn more, visit CocoLibre.com, Facebook.com/CocoLibreOrganic, twitter.com/CocoLibre and Instagram @CocoLibre. Liberate your thirst.™
Media contact: Celina Cooper – celina(at)maverickbrands(dot)com, (650) 739-0555