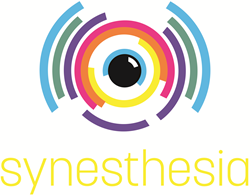 We created this tool to provide musical acts of all backgrounds and genres a stellar live visual backdrop to enhance their performance.
Austin, Tx (PRWEB) March 10, 2016
Synesthesia, the first live visual software designed for musicians, by musicians, officially launches BETA the week of SXSW Interactive. Synesthesia is designed to develop and display cutting-edge visuals that react to music in real-time.
"It is far-fetched to assume every musician will be a skilled visualist, so we created this tool to provide musical acts of all backgrounds and genres a stellar live visual backdrop to enhance their performance." says Theron Pray, CEO of Gravity Current, Inc.
With Synesthesia, musicians are free to improvise knowing that it will visually improvise right along with them, making every musical performance unique. Synesthesia transforms any live show into an audio-visual experience unbound by timelines or play buttons, and feeds its live visuals to a projector, or any screen, all on its own.
"We understand the necessity for a musician or DJ's visuals to be as expressive as their own creations. Synesthesia is our solution to typical programs that require more attention – musicians are free to focus on what they're already great at; the music," says Pray, "for each musical action, a visual reaction, it's as simple as that."
After receiving much positive feedback from its loyal BETA testers, Synesthesia has released a much-anticipated update that includes 5 dynamic new "Scenes", which is their term for each individual aesthetic that users may explore with their music. In addition, this latest version features an oft-asked-for "Setlist", an easy way to cycle through scenes on the fly, as well as a newly re-vamped GUI.
Synesthesia has also been handpicked to appear in SXSW's first ever "Music Startup Spotlight". Much like SXSW Interactive's "Startup Spotlight", this event showcases some of the most innovative new companies in the tech industry from all over the globe, but with a focus on the music industry. In addition to this honorable recognition, Synesthesia will have a booth at the SXSW Interactive Tradeshow on March 13th, the Music Gear Expo March 17th-19th, and has many appearances scheduled for a number of concerts during the festival.
"We are very excited about our involvement with SXSW in the coming weeks, and are absolutely floored to have been one of the 20 chosen startups from around the world to be recognized at the Music Startup Spotlight," says Pray, "We are looking forward to building lasting relationships with fans and fellow entrepreneurs."
For more information on Synesthesia, and to sign up for BETA, and the newsletter, visit http://www.synesthesia.live.
ABOUT:
Gravity Current, Inc. is a music-tech startup founded in 2015 by college friends Theron Pray and Joe Brown. The two sprouted the idea for their first product, Synesthesia, after forming an experimental electronic band that performed with all homemade hi-tech instruments. They wanted to perform with visuals that reacted to their music and translated every drum hit, key press, or chord strike, into a beautiful, responsive visual symphony. After searching the market, they failed to discover a product that would work. With Theron's knowledge of physics, and Joe's background in computer science, they created and performed with the first ever version of Synesthesia.
They then realized that this was not a isolated problem, and that there were thousands of other musicians looking for a simple yet sophisticated tool for adding visuals to their performance - they needed something that boosted production value, fit their aesthetic, and was truly responsive to their music. Theron and Joe set out to solve this problem by committing to making Synesthesia a household name.