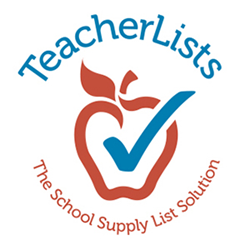 This Sweepstakes will allow schools to take advantage of TeacherLists to make creating and sharing their supply lists easier while at the same time adding valuable reading materials and teaching aids to their classrooms."
(PRWEB) April 14, 2016
TeacherLists, the smarter way to manage, share and find school supply lists, today announces the 'List it for a Library' Sweepstakes that will award Scholastic Library Reading Rooms to 10 schools. The Reading Rooms will include a 100-book collection selected by educational professionals, book bins plus additional Scholastic reading materials. For the chance to win, an educator, school or office administrator, or a school volunteer must upload all their school's 2016-2017 back-to-school supply lists on TeacherLists.com by June 30, 2016.
"TeacherLists wants to help schools work smarter when it comes to making sure kids and classrooms have the supplies they need for a great school year," says TeacherLists founder, Tim Sullivan. "And books are an integral part of every classroom and learning experience. This Sweepstakes will allow schools to take advantage of TeacherLists to make creating and sharing their supply lists easier while at the same time adding valuable reading materials and teaching aids to their classrooms."
Anyone who coordinates the school supply list process at a given school, such as school secretaries, technology coordinators, school PTO and PTA volunteers, and school principals, can enter for a chance to win the award on behalf of their school. Signing up for a free account is required in order to create or upload supply and wish lists but there is no purchase required to enter the 'List it for a Library' Sweepstakes.
TeacherLists brings school supply list creation and sharing to the 21st century. The free online school supply list solution allows educators and administrators a more efficient process to upload and update supply lists year-to-year and provides parents the freedom of instantly finding and organizing the most updated school supply lists. To streamline the process for parents, TeacherLists is easily accessed via computer, tablet or smartphone and is also available at select major national retailers and websites.
About TeacherLists.com
TeacherLists is the smarter way to manage, find and share school supply lists for schools and parents. Launched in 2012, TeacherLists is currently used at over 40,000 schools and in more than 775,000 classrooms across the nation. After a school's lists are updated once, that school's parents can then find those lists exactly where and when they need them, whether on the school website, the TeacherLists site, via their smart phones or even directly on the sites of key retailers. TeacherLists provides parents the freedom of accessing and finding the most updated school supply lists, twenty four-seven. For more information about TeacherLists, visit http://www.teacherlists.com.