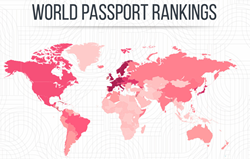 Once again, the German passport is the best performing in the world, with access to 177 countries, visa-free.
New York (PRWEB) March 17, 2016
Germany Tops The Charts
Once again, the German passport is the best performing in the world, with access to 177 countries, visa-free. Ownership of a German passport will allow the holder to travel visa-free to North and South America, Australia and New Zealand, South East Asia, Southern Africa, parts of Asia, plus the whole of Western Europe.
Sweden A Solid Second
The Swedish passport comes a very close second with an impressive 176 visa-free countries on its resume. A Swedish passport will grant the holder access to the same breakdown of continents as the German passport does. Ownership of any E.U passport entitles the holder the right to live and work anywhere within the European Union indefinitely.
The Chasing Pack
Five countries' passports have access to 175 countries, and they are Finland, France, Italy, Spain and the UK. Rounding out the top-ten are Belgium, Denmark and the Netherlands – all with visa-free access to 174 countries, although in fairness 11th placed United States is only there alphabetically, and also has access to 174 countries.
E.U Dominance
Passports from the European Union dominate the rankings, with 25 of the 28 E.U member states providing passports that will grant the holder visa-free access to 160 countries or more. Failing to make that grade are Bulgaria and Romania (153) and Croatia (149), although all three countries are likely to have improved on their visa-free tally by 2017.
No wonder the E.U passport is the most in-demand among high net-worth foreign investors looking to acquire dual citizenship for the purpose of expanding their business opportunities.
Other High Performing Nations
Aside from the US, the passports of Japan and Singapore are the best performing among the non-E.U nations, with access to 173 visa-free countries. Also impressive is South Korea (172) New Zealand (171) and Australia (169). An honorable mention goes to the passports of Chile (155), Hong Kong (154) Brazil (153), and Israel (147), although one can only wonder what the Vatican has done to be limited to just 134 countries visa-free.
Surprising Underachievers
Being a World Power clearly doesn't guarantee its citizens powerful passports. A Russian passport holder has access to only 105 countries visa-free, and that access is limited to Latin America, the Caribbean, several African nations, Eastern Europe, parts of Asia and the Far East.
India is considered the world's next great economic powerhouse, with a population of 1.3 billion, many of whom speak English and are highly educated. Nevertheless their passport is a lightweight, with access to just 52 countries.
China may be rapidly becoming the richest country in the world, with more billionaires than the US, but their passport remains the weakest of any major nation, with access to a paltry 50 countries visa-free.
Nor does being a citizen of an oil-rich nation entitle one to a passport with plenty of visa-free access. Best performing is the passport of the U.A.E with 122 countries, but Saudi Arabia – for so long the West's biggest ally in the Middle East – has a passport with access to just 69 countries.
Bringing Up The Rear
Now we come to those nations whose passports are so limited, holders need to get visas just to get back into their own countries! According to 2ndpassports.com, it's no surprise seeing the usual suspects like Afghanistan (25 countries visa-free), Pakistan (29), Iraq (30) and Somalia (31) at the bottom of the rankings, nations clearly marked down for their links with terrorism and piracy, although one wonders why quite so many African countries have such severe passport limitations. The South African passport is by far the continent's best performer, with access to 97 countries visa-free, while the vast majority of African nations have passports which access less than 60 countries worldwide.
For more information on acquiring dual citizenship and second passport, go to 2ndPassports.com, or contact us at info(at)2ndpassports.com.