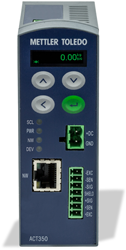 A new compact weight transmitter from METTLER TOLEDO, the ACT350.
Columbus, OH (PRWEB) March 10, 2016
The ACT350 weighing transmitter from METTLER TOLEDO is designed for the needs of control system integrators and OEM machine builders. It provides 600 filtered-weight values per second for fast weighing processes with an accuracy of 10,000d. No additional software filtering is necessary to eliminate vibrations. This allows customers to quickly and cost-effectively integrate high-speed weight data into their automated PLC control systems.
Fieldbus connectivity via EtherNet/IP, PROFINET RT or PROFIBUS is incorporated in a compact DIN-Rail unit saving cabinet space. The ACT350 simplifies the integration process by leveraging device description files making installation easy.
An integrated OLED display shows weight values and can be used in combination with the keyboard to configure and receive status information.
When it is impractical to place test weights on the scale, CalFree™ weightless calibration can reduce commissioning time and provide good results for tanks, vessels, silos, hoppers and conveyors.
Download the data sheet: http://www.mt.com/ind-act350
About METTLER TOLEDO
METTLER TOLEDO is a leading global manufacturer of precision instruments. The Company is the world's largest manufacturer and marketer of weighing instruments for use in laboratory, industrial and food retailing applications. The Company also holds top-three market positions for several related analytical instruments and is a leading provider of automated chemistry systems used in drug and chemical compound discovery and development. In addition, the Company is the world's largest manufacturer and marketer of metal detection systems used in production and packaging. Additional information about METTLER TOLEDO can be found at http://www.mt.com.