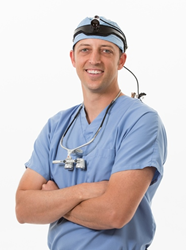 Fresno, CA (PRWEB) March 10, 2016
Dr. Scott Jett is celebrating National Nutrition Month this March, by inviting patients with tooth decay to learn how proper nutrition, in addition to regular dental maintenance, can help them maintain their oral health. Dr. Jett also offers dental implants in Fresno, CA to his patients as a permanent solution for tooth loss due to poor nutrition.
National Nutrition Month is the perfect time to focus on how nutrition affects oral health, and Dr. Jett encourages his patients to adopt healthy dietary habits in order to avoid tooth decay, oral pain and tooth loss. It is never too late to change poor eating habits and improve oral health. A varied diet that contains plenty of foods from the five major food groups is key to proper nutrition. Dr. Jett recommends limiting sugar intake and minimizing the amount of acidic foods and drinks patients consume in order to avoid causing tooth decay. The U.S. Department of Agriculture offers helpful dietary guidelines to assist patients in developing better nutrition habits as well. Following these guidelines can help patients improve their oral health and overall health as well.
Dental implants in Fresno, CA, not only help solve the issue of tooth loss, but they also help patients achieve greater nutrition by making it possible for them to eat a well-balanced diet and a variety of foods they enjoy. Dental implants provide the support patients need through the use of strong titanium posts. Titanium has the unique effect of fusing with the jawbone while also stimulating bone growth to avoid the bone density loss associated with missing teeth.
Patients who have signs of tooth decay or who have missing teeth, are invited to visit Dr. Jett and find out how they can improve their dental health during National Nutrition Month. In addition to nutrition advice for healthy teeth, Dr. Jett also offers dental implants in Fresno, CA for patients who want to improve their dental functionality and appearance. For more information, call (559) 339-0826.
About the Doctor
Dr. Scott Jett is a periodontist offering personalized dental care for patients in Fresno, CA. Dr. Jett has been setting the highest standards of excellence in periodontics, gum surgery and dental implants for nearly ten years. With a practice emphasis on dental implants and periodontal surgery, he continues to be a leader in the Fresno area. He earned his undergraduate degree at Auburn University and his dental degree at the Medical College of Georgia School of Dentistry before completing specialized post-graduate training in periodontics, as well as earning a Master of Science degree in bone physiology, from the Medical College of Georgia. In addition, Dr. Jett is a published author and an active member in many leading dental organizations, including the American Dental Association, American Academy of Periodontics, International Congress of Oral Implantologists, Fresno Madera Dental Society and the 3i Implant Innovations STP Study Club. To learn more about Dr. Jett and the services he provides, please visit his website at http://www.jettperio.com or call (559) 339-0826.