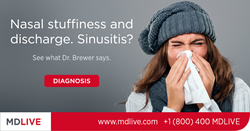 "An individual with a cold that is just not getting better or is worse after 5-7 days may have acute sinusitis (inflammation of the sinuses)." Dr. Brewer, chief medical officer at MDLIVE
Sunrise, FL (PRWEB) March 10, 2016
WHO: Dr. Ford Brewer, chief medical officer at MDLIVE, the nation's largest telehealth network of doctors, pediatricians and therapists.
According to Dr. Brewer, an individual with a cold that is just not getting better or is worse after 5-7 days may have acute sinusitis (inflammation of the sinuses). This occurs when there is bacterial growth in the sinuses as a result of an infection from a virus, bacteria, or fungus. Dr. Brewer recommends keeping a watchful eye out for the 8 most common sinusitis symptoms:
1. Bad breath or loss of smell
2. Cough, often worse at night
3. Fatigue and general feeling of being unwell
4. Fever
5. Headache
6. Pressure-like pain, pain behind the eyes, toothache, or facial tenderness
7. Nasal stuffiness and discharge
8. Sore throat and postnasal drip
WHERE: Individuals that think they may have a sinus infection, should contact their doctor. For those that can't wait days for an appointment or don't want to struggle in to their doctor's office, MDLIVE provides a consult with a Board Certified doctor via secure online video, MDLIVE App or interactive audio. Typical wait time is less than 15 minutes.
WHEN: Consults are available 24/7/365 and currently MDLIVE is offering $10 off initial consults. Consumers should enter the promocode PAINFREE in the promo code section on the payment screen to get $10 off their first MDLIVE phone or video consult before 3/18/16*. Details on promo code can be found at: bit.ly/painfree7.
About MDLIVE
Founded in 2009, MDLIVE is a visionary and pioneer in the digital delivery of high-quality, convenient, cost-efficient care. The company provides consumers, health plans, health systems and self-insured employers with 24/7/365 access to Board Certified doctors, pediatricians and licensed therapists via secure online video, phone or the MDLIVE App. Instead of the inconvenience and expense of ER or urgent care visits for non-emergency issues, registered users can receive a virtual consultation through the company's HIPAA and PHI-compliant secure, cloud-based platform from home or on the go, and if necessary, obtain an e-prescription. To learn more about how MDLIVE is using telehealth innovations to improve the delivery of healthcare, visit http://www.MDLIVE.com.
Media Contact:
Michael E. Donner, chief marketing officer
MDLIVE
+1 (949) 415 8004
mdonner(at)mdlive(dot)com