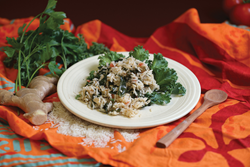 The surprising thing about Vary Amin'anana is that it wasn't a surprise! We regularly have kale with garlic and onions. Adding the fresh ginger and letting the rice cook with the greens was a nice–not to mention–convenient change.– Mom in Pennsylvania
Baltimore, MD (PRWEB) March 10, 2016
Fasting, or giving up meat on Fridays, is a tradition for many Christians during Lent. Community fish fries, macaroni and cheese or vegetable soup dinners are a common approach to Friday's meatless meal. But here is an alternative offered by a Lenten program popular with Catholic families across the United States. It's a collection of five delicious, international meatless recipes from five different countries. It's good food that does more than satisfy the palate. It fights world hunger too.
The recipes are a window into the work of Catholic Relief Services (CRS), one of the largest humanitarian agencies in the world working to build paths to prosperity for poor communities overseas. Each recipe includes a personal stories of someone whose life is changed for the good by services and help they have received.
Cheese Empanadas with Beans is a Colombian recipe in this year's collection features the story of a young woman named Maria. Maria and her family fled violence in southern Colombia and resettled in the coffee fields of the Andes Mountains near Ecuador. Lacking resources to attend college, Maria and her family were invited to join the CRS led Borderlands Project and soon gained enough training and experience to find a new way to make a living through coffee. Today, Maria's father is farming some of the highest quality coffee beans in the world and Maria works as the lead taster and quality control technician.
VIDEO OF MARIA: Hunger for Opportunity in Colombia
The recipes and video stories are a favorite feature of CRS Rice Bowl, the largest Lenten program in the United States fighting global hunger. In 41 years, CRS Rice Bowl has raised the consciousness of people in the United States about world hunger and contributed $260 million toward ending the poverty that causes hunger.
Hunger has no boundaries and food is a unique way to get to know people from around the world.

Try this recipe Cheese Empanadas with Beans and meet Maria from the coffee lands of Colombia
Try this recipe Kao Phiak Saui Tua Leuang and meet Hongkham, a mother of four who is keeping her family healthy in Laos
Try the recipe Kawunga and meet Odette, a mother of a healthy baby daughter from Rwanda
Try this recipe Bean Soup with Chayote Squash and Rice and meet Mayra who overcame her struggles to excel in the classroom in Honduras
Try this recipe Vary amin'anana and meet Vaviroa, a farmer and mother who replanted her flooded fields and put food back on her family's table in Madagascar
There are a total of 18 recipes from 18 countries in a searchable collection on the CRS Rice Bowl website. (http://www.crsricebowl.org/recipe)