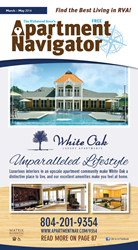 The impetus behind Ross Publishing's launch of this new publication a year ago was to fill the need for a printed apartment guide in Richmond
Richmond, Virginia (PRWEB) March 14, 2016
In March 2015, Ross Publishing added Apartment Navigator to its list of free publications, and in the guide's first year, the publisher has strategically expanded the resource and worked to reinforce the brand. Ross also publishes Seniors Guide, with editions not only in Richmond but also in markets across the country, and Richmond-based Boomer magazine.
"We premiered a new website back in December and have seen an increase in searches for RVA apartments since then," says Craig Ross, publisher of Apartment Navigator. "We're also giving folks who use Apartment Navigator a $50 Amazon gift card, which has incentivized apartment shoppers to also tell their friends about it!"
In this first year, Ross Publishing also made sure its new brand got plenty of exposure, advertising on billboards in downtown Richmond and wrapping its distribution van with the company logo. "Now Apartment Navigator can be seen not only on the Internet and magazine racks in stores but also on the streets around town. We're everywhere!" says Ross.
The impetus behind Ross Publishing's launch of this new publication a year ago was to fill the need for a printed apartment guide in Richmond. While there were several online resources, none was widely available in print form, which, according to Ross, is sometimes easier to use while driving around (for the passenger) looking for an apartment. Plus all of the existing guides were national in coverage, primarily focused on internet listings. Apartment Navigator gives Richmonders a guide dedicated specifically to apartments in the Greater Richmond area, plus the choice of accessing apartments online at http://www.apartmentnav.com or by flipping through a convenient, easy-reference magazine.
Ross Publishing has also beefed up its distribution of the free, printed guide in its first year in business. Apartment Navigator can now be found in more than 800 locations, including almost every grocery store and Wawa (plus other locations) in the Greater Richmond area and the Tri-Cities.
Both the print and online guides include floor plans and apartment features, community amenities, as well as specific details like what's nearby and even the view from the building. When using the online guide, apartment shoppers can filter their search based on location, number of bedrooms and baths, what they want to spend, and the type of apartment they're looking for, including loft, studio and senior housing.
Ross Publishing, a Richmond, Va. -based company, publishes Seniors Guide magazines throughout Cincinnati, Ohio; Columbus, Ohio; Dayton, Ohio; Indianapolis, Indiana; Raleigh-Durham, North Carolina; Richmond, Virginia; and Roanoke-Lynchburg, Virginia and features a correlating website of SeniorsGuideOnline.com. Seniors Guide's mission is to help seniors and their families find the information they need on options available in senior housing, senior care, assisted living, independent senior living, retirement communities and other retirement living needs. Seniors Guide also has resources at http://www.HomeCareChoice.com for Cincinnati, Ohio; Columbus, Ohio; Dayton, Ohio; Raleigh-Durham, North Carolina; and Richmond, VA. Ross Publishing, Seniors Guide's parent company, began in 1991 and has been publishing helpful, free publications and websites ever since. In addition to the many Seniors Guide titles, the team at Ross Publishing is behind lifestyle magazine BOOMER and real estate publication Apartment Navigator.