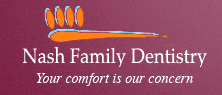 Vicksburg, MS (PRWEB) March 10, 2016
Patients with symptoms of an abscessed tooth are invited to visit Dr. Kenneth Nash's practice to learn more about the benefits of a root canal in Vicksburg, MS. Abscessed teeth can cause a significant amount of pain, but with proper treatment, infected roots can be effectively treated and pain can be reduced. Dr. Nash encourages patients with moderate to severe tooth root pain to take advantage of Root Canal Awareness Week by receiving treatment.
An abscessed tooth can be surprisingly painful, and the symptoms do not often disappear on their own. Patients who are currently in pain and would like to improve their oral comfort during Root Canal Awareness Week are invited to visit with Dr. Nash to determine whether they need a root canal in Vicksburg, MS. It can sometimes be hard to differentiate between regular tooth pain and root pain, but some of the more common symptoms of abscessed teeth include abnormal sensitivity to hot and cold temperatures. Patients may notice that when they drink cold beverages or bite into hot food, they feel a sudden, highly uncomfortable pain that goes deep within one or more teeth. Abscessed teeth may also be more sensitive to pressure, and some patients may find that biting down causes their symptoms to worsen. Swelling around one or more teeth and a persistent bad taste in the mouth may also be indications of abscessed teeth.
Although many experience dental anxiety when considering a root canal, Dr. Nash ensures that the treatment area is fully numb before proceeding with treatment. Specialized tools are used to carefully remove the diseased root tissue and filled with medicine before being fitted with a crown as needed.
Dr. Nash invites patients who have an abscessed tooth to schedule a root canal appointment in Vicksburg, MS at his practice during Root Canal Awareness Week. Appointments may be scheduled during normal business hours by calling (601) 634-1812.
About the Doctor
Nash Family Dentistry is a general practice offering personalized dental care for patients in Vicksburg, MS. Dr. Kenneth Nash and his team provide patients with the latest in dental technology in a comfortable and welcoming environment. Dr. Nash offers a variety of services including laser dentistry, dental implants, and cosmetic dentistry services, among others. To learn more about the services offered at Nash Family Dentistry please visit the website at http://www.vicksburgdentist.com or call (601) 634-1812 to schedule an appointment.