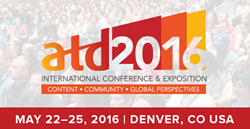 St. Petersburg, Fla (PRWEB) March 12, 2016
Paradigm Learning, a widely recognized provider of industry-leading solutions that develop business-savvy and aligned employees, will be introducing a number of learning and development improvements at the ATD 2016 International Conference & Exposition.
The event will be held at the Colorado Convention Center in Denver, May 22-25, and is anticipated to draw more than 10,000 attendees.
Known for delivering world-class business acumen training experiences, Paradigm Learning is the choice of companies worldwide for its creative, innovative and effective training that is designed to benefit learners across generations. With its award-winning business acumen simulation that has generated numerous success stories, Paradigm Learning continues to advance its mission that has been embraced by more than 1.5 million individuals to date.
According to Amy Bybee, Paradigm Learning's Director of Marketing, the company is prepared to assist HR and L&D attendees who have multiple interests or needs regarding organizational improvement and development.
"We will have company thought leaders on hand to help attendees explore our proven business acumen, leadership development, onboarding, and sales enablement tools that drive real results and engagement for organizations," Bybee said.
Bybee added that Paradigm Learning will be raffling off a number of onboarding giveaway items at its booth. "We are looking forward to helping attendees discover our tools to improve their learning and development programs as well as have some fun at this premier industry event," she said.
Paradigm Learning will be exhibiting its training solutions at Booth #301.
Those interested in attending the event can click here to reserve time at the show or can contact Paradigm Learning at ParadigmLearning.com or 727-471-3170. Or, they can click here to learn more about the ATD International Conference and Expo.
About Paradigm Learning
Paradigm Learning amplifies the business acumen and strategic alignment of leaders, managers, employees and sales teams to achieve real business results. The company's award-winning business games, simulations and Discovery Maps® empower learning and development leaders to revolutionize their organizations. More information is available at http://www.paradigmlearning.com
About the Association for Talent Development
The Association for Talent Development (ATD) is the world's largest professional membership organization supporting those who develop the knowledge and skills of employees, improve performance, and help to achieve results for the organizations they serve. Originally established in 1943, the association was previously known as the American Society for Training and Development (ASTD).
More information is available at http://www.td.org