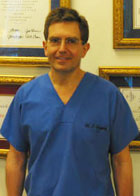 Bethlehem, PA (PRWEB) March 10, 2016
In honor of National Nutrition Month, Dr. Joseph Gaspari, of Gaspari Family Dental Care, is pleased to provide patients with information on the significant link between poor nutrition and gum disease. Dr. Gaspari understands that gum disease is a major contributor to tooth loss, which can have a devastating impact on a person's life. To overcome this condition and replace missing teeth, the doctor is pleased to provide dental implants in Bethlehem, PA, to all appropriate candidates.
Nutrition is strongly tied to dental health. Americans of all ages are suffering with extensive tooth damage at a higher rate than ever. Food has a great impact on oral health for two reasons: the acids present in some food can slowly eat away at the protective layer of the teeth and enamel, and allow bacteria to cause extensive damage. Additionally, those who fail to get proper vitamins and minerals in their diets have been shown to be more susceptible to periodontal disease, a more serious form of gum disease that often leads to missing teeth.
There is still hope for a beautiful smile for those who are dealing with the effects of gum disease. Dr. Gaspari is skilled in providing dental implants in Bethlehem, PA, and is pleased to help every patient he can. Dental implants are a permanent option for those who need to replace one or more teeth. They have been successfully used for decades and require the same maintenance as regular teeth. As a result of their long life, dental implants are one of the top treatments available today to replace missing teeth.
Those who would like to learn more about receiving dental implants in Bethlehem, PA, are encouraged to contact Dr. Gaspari's office by calling (484) 552-2081 for more information. Patients can also learn more by visiting the Gaspari Family Dental Care website at http://www.drgaspari.com.
About the Doctor
Gaspari Family Dental Care is a general practice offering personalized care for patients in Bethlehem, PA. Dr. Joseph Gaspari and his team are dedicated to providing comprehensive dental care through the use of innovative and modern techniques. Gaspari Family Dental offers a variety of other services such as laser gum surgery, Chao Pinhole® Surgical Technique, sedation dentistry, and dental implants. Dr. Gaspari is a Fellow with the International Congress of Oral Implantology and with the Misch International Implant Institute. He is also a member of the American Academy of Periodontology and the American Society for the Advancement of Aesthetics in Dentistry. To learn more about the services offered at Gaspari Family Dental Care, please visit their website, http://www.drgaspari.com, or call (484) 552-2081 to schedule an appointment.