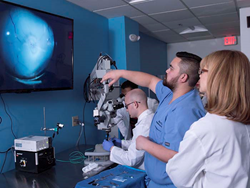 When it comes to our clients' healthcare and medical device products, speed to market, reducing risks and enhancing the success of commercialization are imperative," says Matt Kornau, CEO of Kaleidoscope
Cincinnati, Ohio (PRWEB) March 11, 2016
Kaleidoscope, a Cincinnati-based design and product development consultancy, has expanded its local lab facilities to include a larger, state-of-the-art medical device and surgical testing space. As a full-service, ISO 13485-certified medical device design firm, Kaleidoscope has configured the lab to advance the growing needs of its healthcare and medical device partners.
"When it comes to our clients' healthcare and medical device products, speed to market, reducing risks and enhancing the success of commercialization are imperative," says Matt Kornau, CEO of Kaleidoscope. "The lab expansion at Kaleidoscope will enable us to support continued business growth for our clients in these markets as we co-create solutions that improve lives."
Kaleidoscope had already anticipated the needs of their clients' where lab testing is essential. "We've seen a notable uptick in projects requiring surgical lab testing for design development and validation," observes Michael Clem, DVM, MS, vice president of R&D Medical at Kaleidoscope. "This space gives our clients a private and confidential area to test, evaluate and deploy their ideas."
The lab also supports faster turnaround in projects requiring surgical lab testing, accomplishing multiple tasks under one roof in a short period of time. "The fully functional lab lets us take theory into the physical world fast. We can create a concept in the morning, design it in CAD, 3D print it over lunch, test it in the lab in the afternoon with our in-house clinicians, and then decide how to change and improve the design for the next day of development," explains Ben Ko, biomedical engineer at Kaleidoscope.
In addition to providing a dedicated space for testing the safety and efficacy of medical devices in a surgical environment, the fully-stocked lab includes the following capabilities: prototyping, surgical-grade simulation equipment, diagnostic tools (including tensile testing and force profiling, milligram resolution mass measurement, and vision-system dimensional inspection), measurement devices, high-magnification microscopes and comprehensive surgical instrumentation. With its digital and video equipment, the lab also supports training and education development.
The lab offers the additional benefit of bringing more Kaleidoscope employees into the medical design sphere. For example, researchers and designers can observe while a test surgery is performed in the lab. Human factors experts can glean insights with products in use. "This is challenging and life-improving work that motivates our employees and leads them to deliver excellence," observes Ko. "If you have a good challenge to solve intellectually, it comes with a huge emotional component, people feel compelled to give their best effort to solve it."
"Kaleidoscope's focus makes us more attractive to companies looking for full service product design and development," adds Clem. "We can design products and treatments and quickly analyze the potential impact on a problem. We can also gather and build knowledge before interacting with medical professionals, be it physicians, nurses, or administrators. With that new knowledge, we can then engage our audience with more meaningful questions and come away with far more powerful insights."
"It's exciting for us and for our clients to test concept devices that facilitate commercialization. We're already observing the fruits of our labor having watched clients conduct surgeries in the lab," says Ko.
"Investing in the lab is not just a smart move. It's been a strategic one that allows Kaleidoscope to foster growth in healthcare and medical while keeping a steady focus on other our verticals, including consumer, emerging technology, industrial and automotive," says Kornau. "Our newly upgraded and expanded lab facilities provide our clients with another compelling reason to make Kaleidoscope their partner of choice."
###
About Kaleidoscope
Headquartered in Cincinnati, Kaleidoscope is an early innovation, product design and development firm with more than 100 employees. We create products and experiences that grow businesses and improve lives by leveraging our expertise at the intersection of consumer insights, technology and health and wellness.
Media Contacts:
Margee Moore
Marketing, Kaleidoscope
Margee.moore(at)kascope(dot)com
513-238-5792 mobile