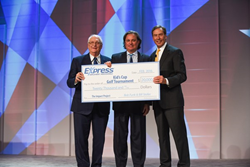 We pride ourselves on having a culture built on giving and service at Express
Oklahoma City, OK (PRWEB) March 22, 2016
Express Employment Professionals, along with its franchise locations in Arkansas, Georgia, Michigan, Oregon, Washington, North Carolina, Colorado, Wisconsin, Utah and Minnesota, is donating $75,000 to 10 nonprofits.
The donation is part of The Impact Project, an initiative of the company's philanthropic committee designed to give back to nonprofits nominated by franchisees among their more than 760 franchise locations.
"We pride ourselves on having a culture built on giving and service at Express," said Bob Funk, CEO and chairman of the board of Express Employment Professionals. "With that in mind, we know how important it is to support the communities where we work, serve and live. The commitment that these franchisees have shown to these organizations is a great example of that support."
Kid's Cup, a golf tournament supporting prenatal and new infant care in Minnesota, was the grand prize winner, receiving a $20,000 donation. The fundraiser was founded by Mark and Sheryl Tasler, owners of the Rochester Express office, and has donated more than $1 million to the Mayo Clinic Children's Center and the Olmsted Medical Center.
"We're honored to be a part of a company that believes so strongly in giving back to the communities where we live," Mark Tasler said. "Kid's Cup has been able to do so much for the children and families for the past 20 years because of the amazing community in Rochester, and we're excited our fundraiser was selected to receive this donation."
Below is a complete list of the nonprofits and the donation amount they will receive from Express Employment Professionals:

$20,000, Kid's Cup – Rochester, Minnesota
$10,000, OUR Center – Longmont, Colorado
$10,000, Racine Vocational Ministry – Racine, Wisconsin
$10,000, Utah Domestic Violence Coalition – Salt Lake City, Utah
$5,000, Cape Fear Valley Health Foundation – Fayetteville, North Carolina
$5,000, Childhaven – Bellevue, Washington
$5,000, Children's Center – Oregon City, Oregon
$5,000, Kids' Food Basket – Grand Rapids, Michigan
$2,500, Camp Rock of Georgia – Valdosta, Georgia
$2,500, While We're Waiting – Hot Springs, Arkansas
Express puts people to work. It generated $3.02 billion in sales and employed a record 500,002 people in 2015. Its long-term goal is to put a million people to work annually.
###
For More Information:
Sherry Kast, APR
Express Employment Professionals
(405) 840-5000
Sherry.Kast(at)ExpressPros.com