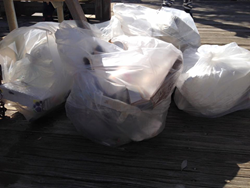 Our team is proud to be making this commitment - to do something for a good cause, to give back.
Stuart, Florida (PRWEB) March 11, 2016
Waters Edge Recovery, working in partnership with Keep Martin Beautiful, today announced the latest contribution their Alumni program is making to the environment and our local community.
On February 7, Waters Edge Recovery alumni members gathered at the Jensen Beach Pavilion to launch their first beach cleanup. With support from Keep Martin Beautiful, the cleanup was the first of a series of community events that Waters Edge Recovery is organizing throughout the year.
The volunteers spent the morning removing 50lbs of garbage from over a quarter mile in both directions. Asked why they chose this specific area to clean, Rebecca Booth, the Alumni Coordinator for Waters Edge Recovery, explained proudly that "We decided the best place to start was on the Florida beaches - the very places we were lucky enough to enjoy during our recovery journey. The team is proud to be making this commitment - to do something for a good cause, to give back." Although it was good, old-fashioned hard work, the Alumni were determined to have fun, relax and support one another in early recovery and found the time to enjoy a beach BBQ together. As the event came to a close, the Alumni unanimously voted to make this a regular event.
The Waters Edge Recovery Alumni family is growing daily with people determined to give back and make a difference in their community. With the continued support and guidance of Waters Edge Recovery, the community and environment will be winners too.
Each year, more than 1,500 volunteers from every corner of Martin County join together as part of the annual Great American Cleanup (GAC). Conducted nationally by Keep America Beautiful and its affiliates from March through May, and coordinated locally by Keep Martin Beautiful, the Great American Cleanup is the nation's largest, annual community improvement program.
"Individuals from all walks of life volunteer in our local Great American Cleanup, from civic clubs and schools groups, to businesses, families and retirees," explained Keep Martin Beautiful outreach coordinator, Tiffany Smith. "Our goal is to help mobilize people to be more actively involved in improving the quality of life in our community. Everyone can make a difference."
About Waters Edge Recovery
Founded in 2012, Waters Edge Recovery is a leading substance abuse treatment center located in Stuart, FL. The center offers a full continuum of care, serving adults 18+ with a Partial Hospitalization Program (PHP), Intensive Outpatient Program (IOP), intervention, family care & guidance as well as sober living and integrative aftercare & case management. Nestled alongside the St. Lucie River, Waters Edge promotes a holistic approach to recovery, incorporating nutritional counseling, exercise, art and music therapy, meditation and recreational activities. For more information visit http://www.watersedgerecovery.com or by calling the 24/7 information & admission line at 855-782-1009.
About Keep Martin Beautiful
Keep Martin Beautiful (KMB) is a 501(c)(3) nonprofit community organization founded in 1994 as an affiliate of Keep America Beautiful. Its mission is to preserve and enhance the quality of life in Martin County through litter prevention, the promotion of recycling, improvement of solid waste management practices, and beautification and community revitalization activities. KMB signature events and programs include the annual Environmental Stewardship Awards, the International Coastal Cleanup, the Great American Cleanup, the Adopt-A-Road and Adopt-A-Street programs, and other educational and outreach activities. Find KMB on Facebook at facebook.com/KeepMartinBeautiful, follow KMB on Twitter at twitter.com/KMBmartin, visit KeepMartinBeautiful.org or call 772-781-1222.