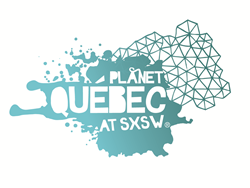 Québec is known the world over for its expertise in virtual reality, augmented reality, animation, special effects, game design and digital entertainment by continually pushing the boundaries of emerging technology.
Montreal, QC (PRWEB) March 10, 2016
Planet Québec is proud to announce the participants in this years' Planet Québec Trade Mission at SXSW Interactive from March 11 through 15 in Austin, Texas. These outstanding companies reflect the burgeoning growth in Québec's technology industry with heavy emphasis on Gaming, Virtual Reality, 360 Video and Augmented Reality sectors. Nine of Québec's most cutting edge companies will demonstrate some of the most innovative advancements in AR, VR and Gaming technology today.
Québec represents the nexus of art, technology and education. In the technology sector alone, Québec has seen exponential growth over the last 15 years and hosts the third largest pool of employees in the gaming industry after California and Tokyo. With a highly skilled and creative workforce, significant tax incentives and highly competitive costs compared to other currencies, Québec offers an extraordinary opportunity to do business with some of the most advanced creative people and technologies on the planet.
On March 13 at the Trade Show Pitch Stage in Exhibit Hall 2 from 3:30 to 4:30pm, Planet Quebec companies Merchlar, Space & Dream and Float4 will participate in the Virtual & Augmented Reality Exhibitor Pitch event. Stop by for a taste of Quebec's ground breaking AR/VR industry companies.
On Tuesday, March 15 from 12:00pm to 1:00pm, Planet Quebec will host a Meet & Greet session at the Trade Stand open to all badge holders where you can enjoy complimentary refreshments while learning about Quebec's technology, music and film offerings.
Tuesday evening from 5pm to 7pm, join us for the Planet Quebec Mixer at the Soho Lounge which will be attended by representatives from Quebec's exceptional pool of companies and talent. The event is invitation only. Please contact Leah Selvidge for an invitation.
MEDIA CONTACT:
Leah Selvidge
OWCPR
512-775-6255
leah(at)otherworldly(dot)com
ABOUT PLANET QUÉBEC PARTICIPANTS
Minority Media – Founded in 2010, the company quickly became one of the most critically acclaimed video game developers with 2013's empathy game title Papo y Yo. Kotaku raved that Papo y Yo "should be (the) game of the year." In 2014, the company shifted its focus to Virtual Reality gaming and its first title Time Machine VR for Oculus Rift and HTC Vive is slated for release in April. Time travelers who can't wait until April to plunge into the murky depths of Earth's primordial oceans can view the trailer online or get a preview at the Planet Québec Stand at the SXSW Interactive Trade Show on March 13 through 16.
Merchlar – Merchlar is a pioneering full-service digital agency in Québec specializing in Augmented Reality, 360 Video and Virtual Reality. Merchlar's passion for art and technology bridges the gap between the physical and digital, creating immersive experiences and bringing brands to life, focused on bleeding edge use cases. The award-winning agency, headed by Awane Jones and Ricardo Poupada, will demonstrate their 360 video technology in the Planet Québec trade stand. In addition, CEO Awane Jones will be part of the panel "Five Ways AR Will Change the World" as part of SXSW Interactive's VR/AR Track at the Hilton Austin Downtown, Salon B on Wednesday, March 16 from 12:30pm to 1:30pm.
OVA– OVA's StellarX development platform allows rapid creation of virtual reality and augmented reality environments that can be published, shared and collaboratively tested with others. Non-technical users can easily create VR environments with a simple drag-and-drop interface, creating simulations that are open, personal, mobile and cross-platform. OVA's StellarX brings WYSIWYG-VR to any environment.
Float4– Float4 returns to the Planet Québec trade stand, this time teaming with MASSIVart to create a large scale digital wall that responds to gesture. Float4 is an interactive technology and design firm focused on site-specific installations. Their expertise in large scale installations create Virtual Reality environments that engage and excite with award winning interactive walls, projection mapping, events and exhibits.
MASSIVart– MASSIVart amplifies events, content and ideas by bringing together a plethora of artists to produce immersive and innovative experiences and installations. MASSIVart is redefining the interaction between brands, businesses, groups and their audiences with art-centric approach. MASSIVart is behind Montreal's Chromatic Festival which aims to celebrate Montreal's hyper-active art scene and connect with the world's best creative cities. They are teaming with Float4 at the Planet Quebec Trade Show Stand to create an interactive experiential environment like no other at SXSW.
Space & Dream– Space & Dream is an interactive branding agency specializing augmented reality application development. You might have heard of 'technocreativity' – the space where technology and creativity merge. That's where you'll find Space & Dream. With a serious penchant for radical design and innovation, Space & Dream pushes the boundaries of Virtual Reality and immersive environments by developing interactive software that brings alive communication, education, entertainment and business.
PHI Centre – The Phi Centre is a collaborative arts center whose innovative programming inspires and challenges audiences by exploring new territories in the digital age. It's Montreal's hub for performances, screenings, interactive exhibitions, guest-curated installations, artist talks, master classes and multidisciplinary mixes showcasing an eclectic range of experiences. The Phi Centre is an antenna aiming to bring global ideas to Montreal and showcase Montreal's ideas to the world by drawing collaborators and creators from across the globe.
Pixel Audio – Pixel Audio is one of the leading interactive audio, music and voiceover companies in North America. The company has created original compositions for some of the most popular video games on the market including the Hitman GO, Laura Croft GO and the highly anticipated Thunder Lotus' action adventure game, Jotun.
Playmind– Playmind is multi-disciplinary media company that uses strategy analysis and design to provide rapid prototyping via low and high technologies. The company focuses on digital interactive and immersive environments for advertising, museums, events, expositions and performances. Founded in 1996, the company's goal is to merge new technology with new designs drawn from insight and analysis of cultural trends.