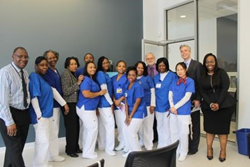 White Plains, NY (PRWEB) March 14, 2016
Last week marked a milestone for the newly opened White Plains Education and Training Center… the date of its first graduation ceremony. Ten students graduated from a free Home Health Aide (HHA) training program offered by Neighbors Home Care Services, one of several partners who will be providing classes at the new center.
Neighbors, a program of Lifting Up Westchester, has been providing HHA training since 2009.
HHA students receive free training and books for the three-week, New York State licensed course which combines classroom and hands-on training with rigorous clinical practice. After successful completion of the program, newly certified HHAs are qualified to perform health related tasks such as monitoring a client's temperature, pulse and blood pressure as well as assistance with everyday tasks such as dressing, feeding, walking and personal hygiene.
Isis Djata, Director of Neighbors Home Care Services, said that all graduates were offered employment at the agency and that all accepted. "Over the last few weeks we have watched these students grow into highly skilled home health aides and are certain that they will make a meaningful impact in the lives of our patients. We are proud to have them on our staff."
Four more sessions of the HHA program are planned for the coming year. This is good news for the more than 70 home care agencies throughout Westchester who currently can't find enough certified aides to keep up with the escalating demand for home care services which is being fueled by an aging population.
Dr. Sylvia Watkins, Ph.D., RN who has held positions as Director of Nursing Services, Director of the Home Health Aide Training Program and Senior Administrator of Educational Projects at Burke Rehabilitation Hospital is the HHA class instructor. "I was extremely impressed with this group of students," she says. "The rigorous training and testing to achieve their certification was taken seriously and with tremendous effort."
Home care, especially geriatric care, has become one of the fastest growing industries in the country. This means that graduates of the HHA training class will enjoy a sustainable demand for their services for years to come. This provides students, many of them from low-income, minority backgrounds and with limited education, with an opportunity to create a better life for themselves and their families.
The HHA classes are funded by a Community Development Block Grant through the City of White Plains and grants from the Westchester Community Foundation, JPMorgan Chase and KeyBank.
A classroom in the White Plains Education and Training Center has been specially outfitted with sinks, hospital beds, mannequins and a Hoyer lift to meet the needs of the HHA program. Equipment funding was provided by the Workforce Training Institute. When not in use by the HHA program, the classroom will be used to provide other types of medical training.
Neighbors Home Care Services, a Licensed Home Care Services Agency, has been providing compassionate care to the elderly and disabled residents of Westchester County since 1983. The agency currently assists approximately 400 homebound seniors and disabled individuals annually with comprehensive services ranging from cleaning, shopping and personal care to more complex monitoring of medical conditions. It also provides post-surgery and Alzheimer care.
The White Plains Education and Training Center is a state-of-the-art facility which features opportunities for career enhancement and skills development. Core programs will provide workforce training for three of Westchester's highest growth industries- Culinary and Hospital, Medical and Health Care, and Technology. The center also offers professional and personal development workshops such as budgeting, workforce preparation, tax preparation, and home ownership.
Subsequent dates for the HHA class sessions are as follows: May 9-31, July 6-28, September 6-29 and November 7-22. For more information, please email idjata(at)liftingupwestchester(dot)org.