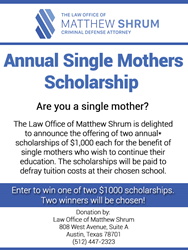 Austin, Texas (PRWEB) April 07, 2016
Austin criminal defense attorney Matthew Shrum, and his law firm, the Law Office of Matthew Shrum, are pleased to announce that they have established a new scholarship program benefitting single mothers. This is an annual program, and two $1,000 scholarships will be awarded every year.
Single motherhood can present significant challenges to those who are maintaining their household, working to provide for their family, and simultaneously fulfilling their role as a parent. The aim of the program is to provide help that will make it easier for single mothers to continue their schooling and move forward to reach their educational goals.
The awards will be used by each successful applicant toward tuition at the educational institution of his or her choice. Qualifying educational institutions include universities, colleges, junior colleges, trade schools, and secondary schools. The scholarship program is open to all single mothers who have a desire to pursue their education on a secondary or post-secondary level. Applicants do not need to be currently enrolled at school in order to apply, and single mothers who are currently experiencing a break in their schooling are welcome to submit an application.
Those who are interested in applying, and anyone seeking more information about the scholarship program, should visit the firm's website, which sets forth the details of the scholarship program, as well as the online application. The application deadline for this year is November 9, 2016.
Questions, via email, may be directed to:
Law Office of Matthew Shrum
808 West Avenue, Suite A
Austin, Texas 78701
(512) 447-2323
michael(at)shrumlawoffice(dot)com