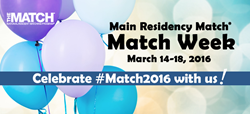 Match Day is an exciting moment for students because it validates their years of effort and defines their future careers as physicians.
Washington, DC (PRWEB) March 10, 2016
March 14-18, 2016 is Match Week for the National Resident Matching Program® (NRMP®) 2016 Main Residency Match®. In 2015, more than 18,000 U.S. allopathic medical school seniors and 16,000 other applicants vied for over 30,000 residency positions at institutions across the country. The 2016 Match is expected to be even larger. View reports from previous Matches
Applicants will learn on Monday, March 14, whether they matched to a residency position. Those who are unmatched can try to obtain a position during the Match Week Supplemental Offer and Acceptance Program® (SOAP®) that occurs Wednesday and Thursday. Applicants then learn on Match Day, Friday, March 18, the location of the program where they will train for the next three to seven years.
Match Day is an annual rite of passage for U.S. medical students and other applicants from around the world, a culmination of years of hard work and dedication. The achievements of U.S. students are recognized by medical schools across the country during Match Day ceremonies that begin at 12:00 p.m. ET on March 18. During the ceremonies, students are given personalized letters showing where they matched. All applicants receive their Match results from the NRMP at 1:00 p.m. ET.
"Match Day is an exciting moment for students because it validates their years of effort and defines their future careers as physicians," says Mona M. Signer, NRMP President and CEO. "We consider it a privilege to share in this life-changing day."
Match Week Celebration with NRMP, AAMC, and AMA
This year, the NRMP is partnering with the Association of American Medical Colleges (AAMC) and the American Medical Association (AMA) to offer online forums where Match participants can celebrate together by sharing their Match Week photos, videos, and messages with the #Match2016 hashtag. Learn how you can follow the celebration
The Match Process
The Main Residency Match process begins in the fall for applicants, usually in the final year of medical school, when they apply to residency programs at which they would like to train. Program directors review applications and conduct candidate interviews in the fall and early winter. From mid-January to late February, applicants submit to the NRMP their rank order lists of preferred programs, and program directors rank applicants in order of preference for training. The NRMP uses a computerized mathematical algorithm to match applicants with programs using the preferences expressed on their ranked lists. Research on the NRMP algorithm was a basis for awarding The Sveriges Riksbank Prize in Economic Sciences in Memory of Alfred Nobel in 2012.
About NRMP
The National Resident Matching Program® (NRMP®) is a private, non-profit organization established in 1952 at the request of medical students to provide an orderly and fair mechanism for matching the preferences of applicants for U.S. residency positions with the preferences of residency program directors. In addition to the annual Main Residency Match® for more than 41,000 applicants, the NRMP conducts Fellowship Matches for more than 60 subspecialties through its Specialties Matching Service® (SMS®).