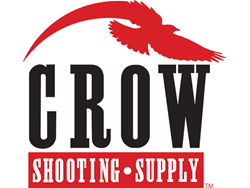 Their bolt-action rifles fill out our products in that category and their single-shot Contender® style guns have been popular for decades.
Montezuma, Iowa (PRWEB) March 15, 2016
Crow Shooting Supply is very pleased to announce it has added the full line of Thompson/Center firearms to its list of wholesale firearms. With more than 120 models, Thompson/Center's lineup helps Crow Shooting Supply expand its offerings with more well-known muzzleloaders, rifles, shotguns and pistols.
"We're glad to be selling Thompson/Center" said Crow founder Steve Crow. "They really beef up our muzzleloader offerings. Their bolt-action rifles fill out our products in that category and their single-shot Contender® style guns have been popular for decades."
One new rifle is the T/C® Compass™. Announced in early 2016, it's an American-made, composite-stocked bolt action available in popular hunting calibers from .204 Ruger through .300 Winchester Magnum. It has aluminum pillar bedding, a free-float barrel and an adjustable single-stage trigger to maximize accuracy potential. Attractively priced, the T/C Compass is backed by Thompson/Center's "Minute of Angle" guarantee to shoot a 3-round group of no more than one inch at 100 yards, using premium ammunition.
The T/C Compass is slated to be available before Fall 2016. Other models currently in stock and ready to ship include the T/C Pro Hunter FX™, Impact!™ and Triumph® muzzleloaders, the T/C Encore® Pro Hunter™ rifles and shotguns, and the G2 Contender Pistol.
The complete Thompson/Center line can be seen at http://www.crowshootingsupply.com. For more information, call 800-264-2493.
About Smith & Wesson
Smith & Wesson Holding Corporation (NASDAQ Global Select: SWHC) is a U.S.-based leader in firearm manufacturing and design, delivering a broad portfolio of quality firearms, related products, and training to the global military, law enforcement, and consumer markets. The company's firearms division brands include Smith & Wesson®, M&P®, and Thompson/Center Arms™. As a leading provider of shooting, reloading, gunsmithing, and gun cleaning supplies, the company's accessories division produces innovative, high-quality products under several brands, including Caldwell® Shooting Supplies, Wheeler® Engineering, Tipton® Gun Cleaning Supplies, Frankford Arsenal® Reloading Tools, Lockdown® Vault Accessories, and Hooyman® Premium Tree Saws. Smith & Wesson facilities are located in Massachusetts, Maine, Connecticut, and Missouri. For more information on Smith & Wesson, call (800) 331-0852 or log on to http://www.smith-wesson.com.
About Crow Shooting Supply
Crow Shooting Supply is a family-owned national wholesale distributor of firearms, ammunition reloading components and shooting accessories. Proudly serving retail gun shops, major sporting goods stores, gun clubs, shooting ranges and government agencies for 30 years, Crow is a full-line supplier of more than 120 of the world's premier shooting industry manufacturers. For more information, or to inquire about partnering with Crow Shooting Supply, call 800-264-2493 or visit http://www.crowshootingsupply.com.