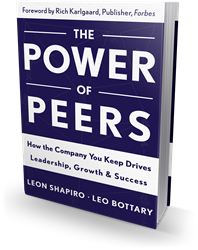 "Where experience and spontaneity create extraordinary moments of wisdom, creative genius, and understanding."
Boston, MA (PRWEB) March 22, 2016
Bibliomotion is thrilled to announce the launch of THE POWER OF PEERS: How the Company You Keep Drives Leadership, Growth & Success by Leon Shapiro and Leo Bottary (March 22, 2016).
Many CEOs report feeling "lonely at the top." Not only do they need to make tough decisions about their organizations day in and day out, but often they do so in a vacuum—without input, or even much pushback, from others.
In THE POWER OF PEERS: How the Company You Keep Drives Leadership, Growth & Success (Bibliomotion, Inc.; hardcover; March 22, 2016) authors Leon Shapiro & Leo Bottary introduce "peer advantage" a concept that transcends peer influence. By harnessing the power of peers, CEOs and senior leaders of small to midsize organizations come together to gain fresh perspectives, solve problems, focus on opportunities and possibilities, and make decisions that accelerate the growth of their businesses.
THE POWER OF PEERS features stories of business leaders from a range of industries to explain how peer advisory groups can be beneficial to CEOs who suffer from a "lonely at the top" mentality. The authors illustrate this through the five essential factors for peer advantage:
1. Select the Right Peers: Nicole Mouskondis is co-CEO of Nicholas and Company, a $600-million food service distributor. Nicole's experience working with peer advisory groups gave her (and the co-CEO) the courage to hire senior-level executives from outside the food service industry. As a result, the company has benefitted from implementing exciting new practices that the company never would have discovered, had they not ventured outside the industry.
2. Create a Safe Environment: Greg Fricks and his brother worked out an agreement with their father to take over their family-owned, high-performance concrete flooring business. But when the time came to hand over the reins to his sons and leave the company, he wasn't ready to step down. In a peer advisory group, Greg found a safe environment to talk about this issue with his group – to be vulnerable and free from judgment. He received the support he needed to confront his father, take over the family business, triple its profits, and preserve harmony in the family.
3. Utilize a Smart Guide: According to Hay Group's Cecelia Wooden, "Striving for peer advantage is nothing short of an act of courage. It's a big deal for CEOs to want to have their assumptions examined through an outside lens." The smart guide creates the environment that allows CEOs to achieve greater clarity and a broader view.
4. Foster Valuable Interaction: Peter Senge described a learning organization as one "where new and expansive patterns of thinking are nurtured, where collective aspiration is set free, and where people learn how to learn together." It's the difference between riding a bike and being a bicycle rider. Peer advisory groups serve as a mechanism to create bicycle riders by fostering the application of deep learning through collaboration.
5. Be Accountable: Walter and Debbie Jones started an architecture firm when they were first married. Today, they have a $30 million company and have raised a family. All the while, Walter participated in a peer advisory group who held him accountable for planning for the future – for long after they planned to retire. The group's culture of accountability helped Walter do what he said he would.
Beyond these five factors, the true success and magic of peer advantage comes from the peers themselves. "It's where experience and spontaneity create extraordinary moments of kindness, wisdom, creative genius, and understanding," the authors explains.
In the book, the authors identify the value and effectiveness of engaging with peers in four distinct ways – connecting, networking, optimizing and accelerating - showing the value of each type and when and why there are needed.
CEO peer advisory groups are shining examples of what's possible when people are committed to accelerating their growth—to stepping outside their company and industry to see beyond the limits of their individual perspective so they can learn, grow, and meet the challenges of an uncertain future. THE POWER OF PEERS reveals the magic that happens when you put great players in the right environment.
About the Authors
Leon Shapiro served as the CEO of Vistage Worldwide (2013-2016), the world's leading peer advisory membership organization for CEOs, business owners, and their key executives. He is a member of the Vistage Board of Directors and also a Director at The Advisory Board Company (NASDAQ: ABCO).
Between 2007 and 2011, Leon served as Senior Vice President, Strategy and Operations, at Warner Music Group. From 2005 to 2006, he served as Group President of The NPD Group, Inc., a global provider of consumer and retail information, where he led all of their entertainment and technology related businesses.
From 1989 to 2004, Leon served as President, Gartner Executive Programs for Gartner, Inc., the leading provider of research and analysis on the global information technology industry. Leon earned his bachelor's degree in economics and political science from the Hebrew University of Jerusalem in Israel.
Leo Bottary is Vice President, Peer Advantage for Vistage Worldwide, where he directs a thought leadership initiative on the power of peer influence for business leaders. Leo also serves as an adjunct professor for Seton Hall University's Master of Arts in Strategic Communication & Leadership program (MASCL), where he leads online learning teams. In April 2015, he was named adjunct teacher of the year for Seton Hall's College of Communication and the Arts.
Prior to joining in 2010, Leo enjoyed a 25-year career counseling leaders in strategic communication. During that time, he served as a Senior Vice President (Corporate Practice) and Director of Client Service for the US at Hill & Knowlton. He also founded an award-winning public relations agency, which he sold in 2000.
Leo earned a BA from Jacksonville University, an MA in Strategic Communication and Leadership from Seton Hall University and is expected to receive his EdD from Northeastern University with a concentration in Organizational Leadership in 2016. Leo's dissertation focuses on the power of peer influence for CEOs.
An Interview with Leon Shapiro & Leo Bottary, Co-Authors of The Power of Peers
Q: What prompted you to write this book?
We want to introduce more leaders to the power of peers. While thousands of CEOs will tell you that being part of a CEO peer advisory group has transformed their lives and their companies, too few of them are ever exposed to the experience. They read books, attend executive leadership programs, go to conferences, hire coaches, etc. – which we applaud – but we also believe that CEOs who don't harness the power of their peers and realize what we call "peer advantage," are really missing out. By giving language to this powerful resource, we hope more CEOs and business owners will discover how much they (and their organizations) will benefit by joining a group.
Q: How would you define "peer advantage"? How is it an effective method for CEOs and other leaders who struggle with isolation?
Without giving it a second thought or that much effort, we experience the power of peer influence every day. Imagine if we gave it a second thought. This is where peer advantage comes in. If we are more selective, strategic, and structured about how we engage our peers, then we will transform garden-variety peer influence into "peer advantage." It's that simple. For CEOs and business owners, who all too often feel isolated, or "lonely at the top," they will help each other in ways they can't find anywhere else and, moreover, they won't feel alone anymore.
Q: Besides isolation, what are some other key reasons a CEO might consider joining a peer group?
There are many, but let's focus on two:
1. An empathetic, impartial sounding board. CEOs are surrounded by advisors, employees, board members, etc. who, when it comes to giving advice, either have a stake in the outcome or don't have the perspective of what it's like to sit in the CEO's chair. This is where a CEO peer advisory group comes in. CEOs rely on their peers, who empathize with the CEO role and have no personal stake in the outcome, to pressure test decisions they are about to make. It's a powerful resource that gives CEOs not only the insights to make the best decisions, but also the increased confidence to act on them.
2) Diversity of perspective. By engaging with CEOs from a broad range of industries outside of your own, you will discover best practices that can be applied to your business that you would not likely discover by working with leaders within your industry sector. This opens up a new of world possibilities for most CEOs.
Q: In Chapter 1, you explain that the people with whom we surround ourselves matters a great deal. What are some basic guidelines CEOs should follow when selecting a peer group to join?
CEO Peer Advisory Groups are what Etienne Wenger-Trayner calls "Communities of Practice." The structural characteristics of a community of practice include having a domain that involves a common knowledge base around a shared purpose, a community willing to collaborate, and a practice with a solid set of approaches, language, and tools. So if you're a CEO, join a group that consists of CEOs who share goals that align with your own, who are committed to working together, and enjoy solid practices and a culture of accountability that raises everybody's game.
Q: You discuss vulnerability in Chapter 5. Why is it a necessary element for a successful peer group experience?
Your peers can't give you solid advice if you're unwilling or afraid to share everything about the challenges you're facing. That includes being open about what you think and how you feel, no matter how difficult that may be to share. The outcome will only be as good as the input. Being among a group of people whom you trust to share in a setting that is safe, confidential and free of judgment, not only helps in a given situation, but also serves to build an enduring trust among group members.
Q: In addition to individual growth, you write that peer advantage can benefit and accelerate business growth as well. What's one example of this?
Business growth and individual growth are two sides of the same coin. Jay Steinfeld grew as a person and as a leader before his "mom & pop" blinds business became a $100+ million dollar company that was recently acquired by The Home Depot. It's one of the most compelling stories in the book.
Praise for The Power of Peers
"True peer advantage is an experience like no other. The Power of Peers shows you how to achieve it." – Marshall Goldsmith, #1 NYT best-selling author of Triggers, MOJO and What Got You Here Won't Get You There
"There is no problem you can't solve if you have a group of peers watching your back. The Power of Peers makes a powerful case for peer groups and shows how to structure them, allowing any leader to accelerate an organization's scaling up." – Verne Harnish, founder of Entrepreneur's Organization (EO) and author of Scaling Up
"Shapiro and Bottary know their stuff. Their combined experience plus the examples cited in this book make The Power of Peers a valuable walk-through into the world of what peer organizations can do to improve your leadership and success skills." – Chris Brogan, CEO Owner Media Group and NYT best-selling co-author of Trust Agents
"The Power of Peers gives voice to a concept that I have long witnessed to be true in business – learning from others who have had similar or related experiences holds incredible value. Business owners are at a disadvantage if they do not have a set of people surrounding them to provide both counsel and support. From my own experience as a co-founder of a company, a journalist, and member of a peer group, I can say that peer advantage is the real deal." – JJ Ramberg, host of MSNBC's Your Business and co-founder of Goodshop
"In The Power of Peers, Shapiro and Bottary interview dozens of business leaders who tell a similar story to my own—that of seeking out a different kind of help from a group of peers—and in so doing provide a reasonable roadmap to help you learn what you just don't know." – Gini Dietrich, CEO of Arment Dietrich and author of Spin Sucks
"The Power of Peers provides a cogent and engaging explanation for why peer advisory groups work. So if you sit at the top of an organization or business and want to continually push your leadership and management performance to new levels, and do it in an environment that is supportive and fun, and yet hard-hitting and pragmatic, read this book." – Craig Weber, author of Conversational Capacity and recipient of the Vistage Worldwide Speaker Of The Year award
"Peer influence is evident in every stage of our life. Kids follow their friends and mirror their older siblings. Teenagers group together in cliques that walk, talk, and dress alike. As we mature, we grow as individuals, yet our peers remain a powerful force in our lives. We're all in this together. Whether it pertains to business or physical fitness, the more you surround yourself with peers who hold the same values and share the same goals, the more likely you are to accomplish those goals." – Jesse Campanaro, CEO Total Gym
"When I started my first business, most, if not all, decisions were mine. Ultimately, the business prospered, but if I had had a trusted peer group to share ideas with, I'm certain we would have been far more successful. With The Power of Peers, Leon Shapiro and Leo Bottary take you on a thoughtful journey that redefines the old adage of "you are known (and far more successful) by the company you keep." Read this book today and take action tomorrow, or you may look back years from now with just a bit of regret." – Robert H. Thompson, author of The Offsite: A Leadership Challenge Fable, founder of LeaderInsideOut.com, and host of Robert Thompson's Thought Grenades radio
Bibliomotion is a book publishing house designed for the new publishing landscape. While many publishers work to retrofit old processes for new realities, Bibliomotion was founded by book-industry veterans who believe the best approach is a fresh one – one that focuses on empowering authors and serving readers above all else. Moving away from the top-down model that has dominated the publishing process for years, we give each member of the team – including the author – a seat at the table from the very beginning and in doing so, work side-by-side to launch and sell the best content possible, making it available in a variety of forms.