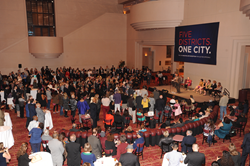 I love Houston. We all do, and we all want the city and its residents to succeed and live full lives with access to great arts and culture.
Houston, TX (PRWEB) March 11, 2016
More than 500 people attended The 2016 Houston Arts Reception for Elected Officials on Monday, February 29, 2016, at the Wortham Theater Center. The city's five cultural districts hosted the reception produced by Houston Arts Alliance to welcome Sylvester Turner as Houston's new mayor and to show their appreciation of his leadership in public funding in the arts during the 84th Texas Legislative Session to procure $5 million in new funding for the state's cultural and fine arts districts.
All five Houston cultural districts received Texas Commission on the Arts funding, accounting for more than a third of the total $1.5 million allocated for this fiscal year.
Houston Mayor Sylvester Turner praised the city's cultural districts for creating exciting collaborative arts and culture projects that benefit Houston as a whole. "I am proud of the diverse cultural programming across our metropolitan area, and I am proud of the working artists and 500-plus arts organizations creating thought-provoking work in all of our communities," Turner said at the reception. "I love Houston. We all do, and we all want the city and its residents to succeed and live full lives with access to great arts and culture."
Representing the cultural districts at the reception were Cynthia Alvarado (Midtown Cultural Arts & Entertainment District), Diane Barber (East End Cultural District), Julie Farr (Houston Museum District), Kathryn McNeil (Theater District), and Susannah Mitchell (Washington Avenue Arts District).
"Please accept our thanks for your past support," said Houston Arts Alliance President + CEO Jonathon Glus on behalf of the cultural districts and the arts and culture community. "We know that together—all of us working together—we can make Houston's arts and culture scene, her cultural districts, her artists, her arts and culture organizations and her neighborhoods stronger and more vibrant than ever before."
Mayor Turner said it was a privilege to work for the funding, and he remains committed to investing in the arts in Houston. "What makes us who we are is the arts community, which reflects the diversity of this city," Turner said. "We must work to take the arts in this city to another level. Now is the time for the Houston arts community to go bold."
Houston Grand Opera Managing Director Perryn Leech welcomed the crowd that included City Controller Chris Brown, City Council members, civic leadership and a robust and diverse representation of the city's arts and culture community.
The program concluded with City of Houston Poet Laureate Dr. Robin Davidson and her reading of her poem "To Speak of Rivers, after Langston Hughes," an homage to Houston and the city's African-American artists that was written especially for the occasion.
Houston First was the Underwriter Host for the reception.