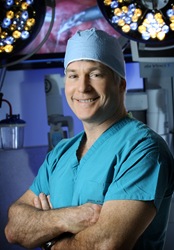 Surgeons report 5 out our 10 pain following a routine day's work in the OR," says Dr. Park. "Injury from simply going to work is not acceptable—we need to create both low-tech and high-tech solution
ANNAPOLIS, MD (PRWEB) March 10, 2016
According to a new study by Adrian Park, MD, chair of the Department of Surgery at Anne Arundel Medical Center (AAMC), surgeons who periodically pause for 90 seconds to perform a series of stretches throughout an operation report less work-related discomfort and an improvement in physical performance and mental focus. Results of the study will be published in the March 2016 Annals of Surgery.
"The results are alarming with surgeons reporting pain at a level of 5 out of 10 following a routine day's work in the operating room," says Dr. Park. "Injury from simply going to work is not acceptable—we need to create both low-tech and high-tech solutions for our surgeons and operating room teams."
The study shows that regular breaks to change positions improve physical function and helps maintain mental focus—not only protecting the surgeon, but also potentially protecting his/her patients.
Surgeons have always endured mental and physical stresses while operating. However, as surgeons perform increasingly complex surgical procedures, they are experiencing more frequent pain in the neck, shoulder and back areas during and after performing an operation. In 2010, Dr. Park led a study that showed almost 87 percent of laparoscopic surgeons experienced discomfort they attribute to performing the procedures. The results provided the groundwork for leaders in the surgical field, such as Dr. Park, to speak up and take action.
"It seems obvious that stretching would help relieve any discomfort while performing surgery. But the act of pausing during surgery is not a widely accepted practice—we are trained to work until we finish the job," says Dr. Park. "This is a cultural shift in the way surgeons are trained."
In this latest study by Dr. Park, participants performed a series of "targeted stretching micro breaks" (TSMB) every 20-40 minutes. The TSMB involved five highly structured exercises:

Each stretch is designed to be performed within 90 seconds while maintaining sterile technique. The results show the majority of participants (57%) using TSMB perceive improvements in physical performance while 30% relate the stretches to improved mental focus. Finally, 87% of participants wanted to incorporate TSMB in their operating rooms in the future.
"While the impact of TSMB on patient safety remains to be defined, we know that addressing ergonomic risk will enhance surgeons' productivity, well-being, and endurance, all factors in maximizing patient safety in the operating room," adds Dr. Park.
The study was conducted in collaboration with researchers and surgeons from Mayo Clinic, University of Louisville and Carolinas Medical Center.