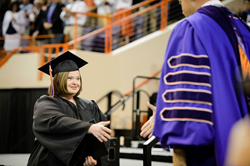 Ruby's Rainbow grants scholarships to adults with Down syndrome for post-secondary education while spreading the word on just how cool and capable they are!
Austin, Texas (PRWEB) March 11, 2016
There are hundreds of adults with Down syndrome across the country who have dreams of a higher education. Luckily, there's one nonprofit organization who's made it their mission to make sure their dreams come true.
It all started back in 2012, about a year after Tim and Liz Plachta's own daughter, Ruby, was unexpectedly born with Down syndrome. In a moment of inspiration, Liz turned to her husband and said, "I want to raise $2,000 this year and give it to someone with Down syndrome who's going to college." What she didn't know at the time was just how huge the need really was.
Since that faithful moment, Ruby's Rainbow has granted $185,000 in scholarships to 74 "Rockin' Recipients" all across the country. Unfortunately, due to a lack of funding, they've also turned away dozens of applicants during that period of time.
So, in honor of World Down Syndrome Day on March 21st, Ruby's Rainbow is asking everyone to take the 3/21 Pledge to help these individuals achieve their dreams of higher education. The 3/21 Pledge is the largest fundraiser of the year for the Austin-based nonprofit. It not only provides a large portion of their annual funding, but also helps spread awareness of how cool and capable individuals with Down syndrome are.
Taking the Pledge is super easy:
1. Donate just $21 at 321pledge.org
2. Pledge to be kind and considerate to people of all abilities
3. Ask three friends to do the same
Ruby's Rainbow was excited to recently win the 2015 Austin Film Frenzy People's Choice Award with this amazing video.
Update: As of March 11th, the 3/21 Pledge has raised almost $40,000 toward their overall goal of $100,000! The Pledge will continue through World Down Syndrome Day on March 21st.