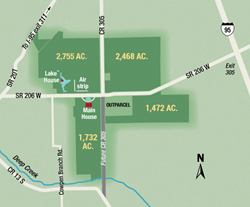 Each parcel represents an excellent opportunity for buyers wanting an investment in the development and growth we continue to experience in St. Johns County.
St. Augustine, FL (PRWEB) March 12, 2016
The 8,427-acre Hutson Ranch, located in St. Johns County, Florida, is now for sale in four distinct parcels, according to Davidson Realty, Inc., the agency of record for the ranch.
According to Sharon Davidson, President of Davidson Realty, Inc., this new opportunity is in response to the expressed interest of the broader market. "By offering the ranch in four parcels, purchasers will be able to better meet their individual investment goals," Davidson said.
Two of the parcels are highly amenitized and offer extensive equestrian facilities and residential opportunities. The other two parcels are classic silvicultural properties with excellent drainage and roadway systems.
The Northwest Quadrant (2,755 acres) has a diversity of improvements for wildlife management coupled with majestic, natural and maintained areas. It boasts twin 2,600-foot north/south and east/west airstrips, extensive equestrian buildings and paddocks, and a two-story, over-water lake house on a 50-acre stocked lake. With its connection to State Road 207, this quadrant also offers a mid-term development option for all, or a portion, of the site.
The Southwest Quadrant (1,732 acres) features a vintage Neoclassical/Greek revival, 11,000-square-foot manor home, three residence houses, pine and hardwood forestlands, and 240 acres of productive leased agricultural land. Much of this property has been high fenced.
The Northeast Quadrant (2,468 acres) is a two-square-mile, managed timber forest with superlative wildlife habitat and four miles of highway frontage.
The Southeast Quadrant (1,472 acres) is a one-by-two-mile managed timber forest with superlative wildlife habitat immediately adjacent to thousands of acres of nationally-owned timberlands, and is only three miles west of Interstate 95.
"Buyers can anticipate both immediate and future revenue from any ranch quadrant," said Jim Davidson, President of The Davidson Companies. "The land itself is beautiful with an extensive list of existing and potential uses on each quadrant. Each parcel represents an excellent opportunity for buyers wanting an investment in the development and growth we continue to experience in St. Johns County."
Recognized as one of the fastest-growing and most attractive areas in Florida, St. Johns County is seen as a highly desirable place to live, work and visit. The county has Florida's top ranked public schools, nationally acclaimed health services, excellent infrastructure and an ideal Northeast Florida location between the Atlantic Ocean and the St. Johns River.
Hutson Ranch is situated between Jacksonville to the north, historic St. Augustine to the east, and Daytona Beach to the south. The ranch is directly connected via Interstates 95 and 4 to international airports in Jacksonville, Daytona, Sanford and Orlando.
Owner financing is available to qualified buyers. For more information, visit http://www.HutsonRanch.net or contact Jim Davidson at (904) 940-5000.
About Davidson Realty, Inc.
For more than 25 years, Davidson Realty, Inc. has been a leader in Northeast Florida real estate, marketing and selling residential and commercial properties in Jacksonville, St. Augustine and surrounding areas. The firm has been recognized as one of the area's 50 Fastest Growing Companies and Best Places to Work by Jacksonville Business Journal, and one of Florida's Best Companies to Work For by Florida Trend magazine. Davidson Realty boasts nearly 60 Realtors with a variety of client-focused specialties from Certified Distressed Property Experts to multi-lingual agents. The firm's sister companies include Davidson Property Management, Davidson Development, Davidson Advisory Services, Davidson Referral Network and non-profit foundation Davidson Cares. Davidson Realty has offices in World Golf Village (100 E. Town Place, St. Augustine, FL) and Jacksonville Beach, FL (1500 Beach Boulevard, Suite 215). For more information about Davidson Realty, call 904-940-5000 or visit http://www.DavidsonRealtyinc.com. Fan, follow and see Davidson videos on Facebook (http://www.Facebook.com/DavidsonRealty), Twitter (http://www.twitter.com/DavidsonRealty) and YouTube (http://www.youtube.com/user/DavidsonRealtyInc).