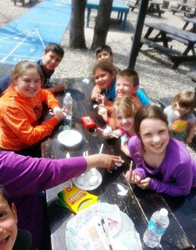 Toms River, New Jersey (PRWEB) March 10, 2016
Preparation is in full swing at Surf & Stream Campground for spring activities to begin next month. The season will kick off with the annual Easter Egg Hunt on April 3rd. The updated calendar of events for the 2016 camping season can be found on the park's website.
Guests can also look forward to Friday night drive-in movie night, Bingo, Carnival Day, Murder Mystery Dinners, Pancake Paula Sunday morning breakfast and several appearances from DJ Joe.
Visit Surf & Stream Campground's website for changes or updates to the schedule at http://surfnstream.com/.
About Surf and Stream Campground
Surf & Stream Campground is a family-friendly RV park located near all of the most popular beaches at the Jersey Shore. The campground includes a full-size swimming pool, picnic area, activities for all ages, weekend events and more. For more information about Surf & Stream Campground, visit their website at http://www.surfnstream.com or call 732.349.8919.