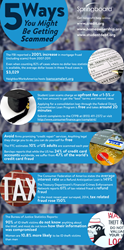 Financial scams affect people from all walks of life.
Riverside, CA (PRWEB) March 10, 2016
Springboard Nonprofit Consumer Credit Management, Inc. ("Springboard") is warning consumers about some common financial scams in recognition of National Consumer Protection Week.
Scheduled for March 6-12, 2016, National Consumer Protection Week is sponsored by the Federal Trade Commission and a host of other government and private organizations. More information can be found online at http://www.ncpw.gov.
"Financial scams affect people from all walks of life," said Melinda Opperman, Springboard's Chief Relationship Officer. "Even people who are reasonably careful might fall victim to a scam without realizing it."
Springboard wants caution consumers about five common types of scams:
1 Mortgage – Consumers struggling to make their mortgage payments get all kinds of mailers with misleading messages about "mortgage assistance programs." Many of these communications look official, but they're often a way for scammers to generate up-front fees for mortgage assistance.
"It's illegal to charge up-front fees for mortgage loan modifications," Opperman said. "We recommend homeowners stick with HUD-approved housing counselors to ensure they're dealing with a legitimate agency."
2 Student Loans – As student loans are a growing area of concern for consumers in debt, scammers are naturally targeting student loan borrowers. "What student loan scammers do is similar to mortgage modification scammers, these companies are preying on consumers, charging excessive fees for something you could do yourself at little to no cost," Opperman said. "Graduates and students can access student debt relief programs themselves, but scammers want to charge them fees for borrower assistance programs that are already available to consumers for free."
Springboard urges student loan debtors to seek help from a qualified nonprofit student loan counselor. They will be able to help with legitimate programs like the "Federal Direct Consolidation Loan", "Income-Based Repayment" or "Pay as You Earn," which can help by lowering payments to a manageable amount based on one's current situation. "But whatever you do," Opperman said, "don't pay upfront fees for access to these programs."
3 Credit Card Debt Relief – A common tactic for certain debt relief "negotiators" is to tell debtors to stop making credit card payments altogether.
"Never follow this advice," Opperman said. "You'll probably end up getting sued by your creditors when your payments stop, which hurts you but doesn't affect the debt negotiator at all."
Springboard also warns about credit card debt loan consolidators who present what looks like a good deal, but can actually cost more in the long run with fees and interest.
"There are plenty of legitimate nonprofit counseling organizations available to help," Opperman said. "We urge anyone with credit card debt to seek them out first. Look for an agency that belongs to the National Foundation for Credit Counseling or the Financial Counseling Association of America."
4 Tax Refunds – The biggest worry with tax refunds isn't an outright scam, but more of an unnecessary ripoff, Opperman said. "We caution people against refund anticipation loans, which even legitimate tax preparers offer." This kind of loan is a short-term loan whereby the filer collects his or her refund immediately (minus fees and interest) and the loan is paid off when the refund comes in.
"The problem is, they're unnecessary," Opperman said. "In most cases a refund anticipation loan only gets your refund to you 10 days earlier than if you e-file your taxes, but according to the Consumer Federation of America, the average interest rate on this kind of loan is 149%."
Springboard urges consumers to e-file their taxes with the IRS and have their refund direct deposited so they get it quickly, making an expensive refund anticipation loan unnecessary.
5 ID Theft – This kind of crime is still a big problem for consumers. "Whether it's sophisticated computer hackers or people who 'dumpster dive' through your trash for discarded financial information, prevalence of identity theft continues to rise every year."
Women in particular are more likely to be identity theft victims. "The Bureau of Justice Statistics reports that women are 10.8% more likely to be victims of identity theft," Opperman said, "and this trend is due to women being less likely to sign up for fraud protection programs like text messages and email alerts that warn of abnormal transactions. According to the report, 86% of the identity theft involved unauthorized use of an existing account. We all need to take steps to protect ourselves. Shred documents, sign up for alerts with your financial institution and credit card issuer, update your online passwords, and check credit reports annually for signs of trouble."
Springboard encourages everyone to consider whether they're doing enough to keep their finances and identity secure. The agency sees National Consumer Protection Week as an excellent opportunity to start a broader conversation about personal financial security and scam prevention. Certified nonprofit financial counselors are available by calling 800-449-9818, or visiting http://www.credit.org for credit card debt, http://www.homeownership.org for mortgage debt, or http://www.studentdebt.org for student loans.
About Springboard
SPRINGBOARD® Nonprofit Consumer Credit Management is a nationwide 501(c)(3) non-profit personal financial education and counseling organization founded in 1974 with the mission of improving the financial wellbeing of individuals and families. Springboard is a U.S. Department of Housing and Urban Development approved housing counseling agency and a member of the Financial Counseling Association of America and the National Foundation for Credit Counseling; the nation's longest serving nonprofit financial counseling organization. Springboard is also a proud member of the HOPE NOW Alliance, a cooperative effort between the U.S. government and mortgage market participants to help struggling homeowners. Springboard offers personal financial education and assistance in credit counseling, housing counseling, reverse mortgage, debt and money management, pre-bankruptcy counseling, and debtor education through educational programs and confidential coaching. Springboard is accredited by the Council on Accreditation, signifying the highest standards for agency governance, fiscal integrity, counselor certification, and service delivery policies. Counseling is available by telephone nationwide or in-person at office locations in California, Arizona, Massachusetts, New Mexico, South Carolina, and Texas. For more information, please call 800-449-9818 or visit their website at http://www.credit.org.