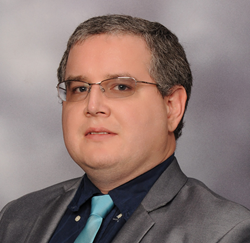 "His experience and capabilities provide an in-house expert who can contribute to our team in a number of vital areas." - AMWest Entertainment Owner, Nelson Clemmens
Lousiville, Kentucky (PRWEB) March 12, 2016
Jason Martin brings a wealth of industry, technical and management experience to his new position as IT Director of AmWest Entertainment LLC and his management of AmWager, North America's most advanced pari-mutuel wagering platform for Thoroughbred, Harness, and Greyhound racing.
Martin began his career as a terminal technician in 1999 and has worked in nearly every IT-related position in the pari-mutuel industry. Martin has been a tote operator, mutuels manager, systems administrator and software developer. He has also designed and deployed various pari-mutuel software systems and wagering platforms, including those for international markets.
Most recently, Martin served as a software consultant responsible for designing and developing software for the pari-mutuel industry in both the United States and Asia Pacific markets. Among the projects he rolled out is a new online wagering system designed to utilize any tote provider.
Prior to that, Martin was a Technical Support Supervisor who helped diagnose and solve hardware and software issues worldwide for United Tote. He also worked closely with research and development to report bugs and create enhancements to the technology.
"Jason is a key hire for our organization," said Nelson Clemmens, CEO of AmWager. "His experience and capabilities provide an in-house expert who can contribute to our team in a number of vital areas. Jason's experience with wagering platforms and his integral knowledge of tote systems, dramatically enhances our ability to be innovative and an industry leader. He can also help respond promptly to any issues related to our wagering platform that might affect the customer experience of our players."