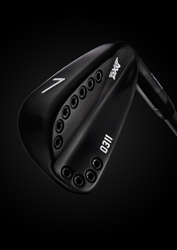 The PXG Xtreme Dark finish is rock solid and absolutely beautiful.
Scottsdale, AZ (PRWEB) March 11, 2016
Parsons Xtreme Golf (PXG), the revolutionary new golf equipment company founded by well-known entrepreneur Bob Parsons, has introduced an optional black finish for its acclaimed PXG 0311 and 0311T collections. The new Xtreme Dark finish features a black Diamond-like Carbon (DLC) coating that significantly increases the surface hardness of each club's finish.
"PXG was on a mission to introduce a black iron finish that would not fade overtime and would resist showing signs of wear and tear," said PXG chief product officer Brad Schweigert. "We discovered that DLC coating not only produces an extraordinary look without influencing club performance relative to how the ball reacts, but also significantly extends the reasonable lifetime for the black finish."
DLC is a hard, graphite-like, carbon-based coating with exceptional tribological properties under high loading conditions. Simply put, the finish is engineered for performance. The relatively new coating is currently used in fuel injection systems, but also has a number of other promising applications including doubling or tripling the useful life of prostheses.
PXG's Xtreme Black finish is the first application of black DLC coating technology in golf. The company's durability testing has found the coating to be significantly better than anything currently available.
"The process is expensive, but the results are remarkable," said PXG founder Bob Parsons. "The PXG Xtreme Dark finish is rock solid and absolutely beautiful."
PXG 0311 and 0311T irons and wedges are now available in very limited quantities in PXG's "smoking hot, gotta have" Xtreme Dark finish at an additional charge of $100 per iron. For more information or to schedule a fitting visit http://www.PXG.com.
About Parsons Xtreme Golf – PXG, A YAM Worldwide Company
Parsons Xtreme Golf (PXG) is based in Scottsdale, Arizona. The company was founded by Go Daddy founder, businessman and philanthropist Bob Parsons in 2014. Leveraging breakthrough technology and sophisticated manufacturing processes that integrate high-performance alloys, PXG produces the finest golf clubs in the world. The company has over 60 global patents issued for its proprietary designs.
PXG clubs are currently being played on all three major U.S. Tours. PXG's professional staff includes PGA TOUR Champions Zach Johnson, Billy Horschel, Chris Kirk, Ryan Moore, James Hahn and Charles Howell III, Champions Tour golfer Rocco Mediate, and LPGA players Cristie Kerr, Gerina Piller, Alison Lee, Beatriz Recari and Sadena Parks.