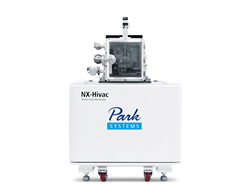 "Park NX-Hivac offers greater accuracy, better repeatability, and less tip and sample damage than ambient or dry N2 conditions and users can measure a much wider range of signal responses. Keibock Lee, President Park Systems
Santa Clara CA (PRWEB) March 11, 2016
Park Systems, world leader in Atomic Force Microscopy (AFM) will showcase Park NX-Hivac, a High Vacuum Atomic Force Microscope for failure analysis and atmosphere-sensitive materials research at the American Physical Society (APS) March Meeting from March 14-18, 2016 in Booth 917. Park NX-Hivac high vacuum AFM is designed to improve sensitivity and repeatability in AFM measurements for materials science researchers that require high accuracy and high resolution measurements in a vacuum environment free from oxygen and other agents. Park Systems atomic force microscope systems also include the patented SmartScan™ software that revolutionizes the ease of nanoscale resolution 3D microscopy with a simple point-and-click feature.
"Park NX-Hivac offers greater accuracy, better repeatability, and less tip and sample damage than ambient or dry N2 conditions," explains Keibock Lee, President of Park Systems. "Our innovative design allows users to measure a much wider range of signal responses in various failure analysis applications, such as dopant concentrations in Scanning Spreading Resistance Microscopy (SSRM) and is a valuable microscopy tool for materials researchers."
"High vacuum Scanning Spreading Resistance Microscopy measurements conducted with the Park NX-Hivac guarantee failure analysis engineers substantial benefits including increased throughput and yield, cost reductions, and improved accuracy," adds Lee.
Performing SSRM measurements under high-vacuum conditions can reduce the required tip-sample interaction force, which can significantly reduce damage to both the sample and the tip. This will extend the life of each tip, making scanning cheaper and more convenient, and can provide more accurate results by improving spatial resolution and signal-to-noise ratio.
The APS March Meeting which is expected to attract 10,000 world-wide attendees will be held at the Baltimore Convention Center. APS is an industry association of over 51,000 members that provides collaboration and education within the physics community including physicists in academia, national laboratories, and industry throughout the world to promote excitement about physics for the betterment of humanity.
Park Systems' booth there, 917, will be featuring informational displays for the Park NX-Hivac along with their complete line of innovative atomic force microscopes including Park NX10, the industry's leading AFM product known for unbeatable nanoscale accuracy and ease-of-use facilitated by Park SmartScan™, the only point-and-click imaging system for AFM.
About Park Systems
Park Systems is a world-leading manufacturer of atomic force microscopy (AFM) systems with a complete range of products for researchers and industry engineers in chemistry, materials, physics, life sciences, and semiconductor and data storage industries. Park's products are used by over a thousand of institutions and corporations worldwide. Park's AFM provides highest data accuracy at nanoscale resolution, superior productivity, and lowest operating cost thanks to its unique technology and innovative engineering. Park Systems, Inc. is headquartered in Santa Clara, California with its global manufacturing, and R&D headquarters in Korea. Park's products are sold and supported worldwide with regional headquarters in the US, Korea, Japan, and Singapore, and distribution partners throughout Europe, Asia, and America. Please visit http://www.parkafm.com or call 408-986-1110 for more information.