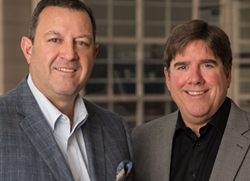 Offering this scholarship is a first for us and an opportunity we hope to be able to repeat in future years
Dallas, TX (PRWEB) March 13, 2016
Well-known North Texas personal injury law firm Guajardo & Marks, LLP announced today that it would be awarding a scholarship of $1,000 to be presented to a student starting law school in August. Applications will be judged on originality, creativity, and the ability to clearly convey a complex message.
"Using the written word to communicate information clearly and accurately to an extensive range of people is a critical legal skill," remarked Attorney Michael Guajardo. "Lawyers must be able to get ideas and concepts across to clients, other attorneys, juries, experts, witnesses, judges, arbitrators, individuals who seek help during consultations and many others. Effective attorneys have excellent speaking abilities, of course, but the real value comes from being able to put those ideas down on paper. "
Those who wish to apply for the scholarship must be U.S. citizens or authorized to work in the U.S., be commencing law school in August of 2016, and have written an article that has been published in a newspaper, magazine, professional blog, or academic publication. Completed application forms must be submitted with a copy of the applicant's law school acceptance letter and either a copy of the applicant's previously published article or a link to the article's online location. The subject matter does not have to be legally related, but should be informational.
All documents must be received by May 1, 2016, and applications can be submitted online at Guajardo & Marks, LLP. The successful applicant will be notified by June 15, 2016. The winner's law school will receive a $1,000 check by August 1, 2016, to help defray the scholar's tuition costs and other expenses.
"Higher education is expensive," commented Guajardo. "It has been estimated that the average cost of attending law school has increased significantly faster than the rate of inflation. Today, the cost of law school can easily surpass $150,000. Scholarships are important pieces to the financial aid puzzle, and our firm is pleased that we can invest in the potential of a worthy student in this way. Offering this scholarship is a first for us and an opportunity we hope to be able to repeat in future years."
About Guajardo & Marks, LLP
Dallas personal injury lawyers Michael Guajardo and Greg Marks have decades of experience protecting the interests of injury and accident victims. Offering personal, compassionate service, they believe in making a positive impact on the lives of their clients and aim to make each one feel that their case is a priority. Resourceful and knowledgeable, they welcome clients from the greater Dallas-Fort Worth area and across the United States. For more information or to get help with a potential claim, call 1-972-774-9800.