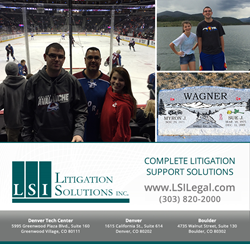 I couldn't think of a more deserving family for this Holiday Wish sponsorship.
(PRWEB) March 11, 2016
The Litigation Solutions Holiday Wish provides a family who has fallen on hard times with the opportunity to make the season a bit brighter by granting a wish of their choice. Myron Wagner and his teenage son and daughter were nominated for the LSI Holiday Wish program by Megan Holloway, lead paralegal at Jachimiak Peterson, LLC.
During the past holiday season, Myron lost his wife and mother of their children, Sue Wagner, to cancer. Sue was only 40 years old. Sue and Myron were both active in their community and school district. Upon news of Sue's health, Holloway, secretary for the PTA Board where Myron worked, submitted a nomination on behalf of the Wagner family.
"The Wagner family has deep roots in the SD27J school district and surrounding community. It is very difficult to lose someone to cancer. It is even harder when it happens around the holidays; holidays are about family and time together," said Holloway. She added, "Nothing can ever replace or fill the void of losing Sue Wagner; however, it was very important to me to find a way to show the Wagner family that they would not have to go through this alone. I couldn't think of a more deserving family for this Holiday Wish sponsorship. Michael Lopez and the LSI team have been more gracious than I ever could have imagined."
The LSI team selected the Wagner family in January. "The loss the Wagner family and community experienced is heartbreaking. This wasn't only a situation of a difficult financial setback, but that of a true loss for the family. We knew this was the family we wanted to help," said Michael Lopez, president at Litigation Solutions Inc. The Wagner family chose a night out at a Colorado Avalanche hockey game.
To help the Wagner family, a GoFundMe account has been created under Sue Wagner's name in Commerce City, CO. To contact Litigation Solutions Inc., please call (303) 820-2000 or email info(at)LSILegal(dot)com.
About Litigation Solutions Inc.
Litigation Solutions Inc. (LSI) is a full service litigation support company offering a complete range of solutions by a professional staff. We assist clients with their electronic discovery needs from data collection and analysis of phones, tablets, desktop and laptop devices through document review and production. We process and convert data to TIFF or leave it in a native file format for review in one of our web-based review tools. From the time your case is filed to the time it goes to trial, LSI is fully equipped to deliver the right solution at the right time. With more than 15 years serving the legal industry, LSI will meet and exceed your requirements at every stage in the life of your case.