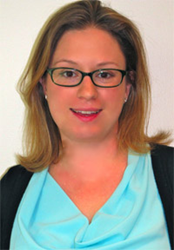 White Plains, NY (PRWEB) March 15, 2016
Amy C. O'Hara, Esq., a partner with the law firm of Littman Krooks LLP has become a Certified Elder Law Attorney (CELA) of the National Elder Law Foundation (NELF). The National Elder Law Foundation is the only organization approved by the American Bar Association to offer certification in the area of elder law, one of the fastest growing fields in the legal profession. Littman Krooks is the only law firm in Westchester County with two CELAs.
Amy's practice is focused in the areas of estate planning and administration, trust administration, guardianships, special needs planning, personal injury settlement consulting, elder law and veterans' benefits.
She frequently lectures to advocacy organizations and families on the importance of proper planning for families of children with special needs and also regularly publishes articles relating to estate and special needs planning.
Amy is a member of the New York State Bar Association (NYSBA), Elder Law and Trusts & Estates Sections of the NYSBA, Westchester County Bar Association, and Mamaroneck-Harrison-Larchmont Bar Association. She is also a member of the Special Needs Alliance, a national, not-for-profit organization dedicated to assisting families with special needs planning. Amy is a member of the board of directors of Westchester Disabled on the Move, Inc., a not-for-profit organization that aims to improve the quality of life and the rights for all people with disabilities.
To learn more about Amy C. O'Hara, click here.
About Littman Krooks
Littman Krooks LLP provides sophisticated legal advice and the high level of expertise ordinarily associated with large law firms along with the personal attention and responsiveness of smaller firms. These ingredients, which are the cornerstone of effective representation and necessary to a successful lawyer/client relationship, have become the foundation of the firm's success.
Littman Krooks LLP offers legal services in several areas of law, including elder law, estate planning, special needs planning, special education advocacy, and corporate and securities. Their offices are located at 655 Third Avenue, New York, New York and 399 Knollwood Road, White Plains, New York. For more information about Littman Krooks LLP, visit http://www.littmankrooks.com.