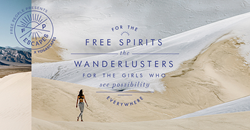 "As a lifestyle brand being able to allow customers to fully immerse themselves in our brand felt like the next adventure."
Philadelphia, PA (PRWEB) March 11, 2016
Today, March 11th, 2016 lifestyle brand, Free People, officially unveiled new retreats under its recently-launched travel and wellness category, FP Escapes. The venture and new vertical for the brand offers travel experiences for the free spirits, the wanderlusters, and the girls who see possibility everywhere. The new launch includes five retreat experiences, each curated by Free People to include world-renowned guides, off-the-beaten-path destinations, bespoke venues and impactful themes. Available for females age eighteen and over, the wellness adventures will range in price from $850 to $4000, and in duration from three to nine days. The first trip of its kind took place June 2015 at Maderas Village in Nicaragua, and the second occurred in January 2016 in Yelapa, Mexico. Both retreats and the upcoming calendar of events are in collaboration with partner brand, YOGASCAPES.
Free People's newest FP Escapes are currently available for purchase and comprise of journeys to the following destinations:
Yellowstone, Montana - June 2016
Sacred Valley, Peru - July 2016
Sonoma, California – August 2016
Andalucia, Spain – September 2016
Berkshires, Massachusetts - October 2016
Each retreat includes accommodations, daily yoga, influential guides, a daily menu of customized healthy meals, and $250-$500 of Free People product. Booking will be available at Super Early Bird, Early Bird, and Regular rates, excluding airfare. For more information and to purchase, visit http://www.FreePeople.com/fpescapes.
Travel and wellness have long been pinnacle components to the Free People brand. The retailer markets itself as a lifestyle, sharing content targeted at the women who is intelligent, creative, confident, and comfortable in all aspects of her being. For over ten years, Free People catalogs have whisked fans away to far-reaching locales. Paris, Bali, Costa Rica, Jackson Hole – are just a few of the destinations which have appeared on Free People's pages. In 2014, the brand also launched FP Movement, a line of yoga, dance, surf, run, and fit activewear to better outfit its customer's lifestyle.
"As a lifestyle brand being able to allow customers to fully immerse themselves in our brand felt like the next adventure." Says Abby Morgan Director of Content Strategy & Brand Marketing, "With FP Escapes we are able to engage our customers in a unique and authentic way, really bringing our brand ethos to life."
In May 2014, as the brand looked for new ways to expand its love for travel and wellness, it began offering exclusive overnight experiences for FP Me customers, the brand's online style community. These adventures were featured across brand platforms, and planted the seed for what is now FP Escapes.
In 2015, Free People began its partnership with YOGASCAPES. YOGASCAPES revolutionizes the age-old "yoga retreat" by combining today's most vibrant yoga and wellness instructors with in-tune guides, local culture, nourishing food, inspiring adventure, and a collective of similar minded fun-loving people from across the globe. YOGASCAPES partnered with Free People to launch Sur la Sol, a wellness retreat to Maderas Village in Nicaragua. Guests on the retreat participated in daily yoga, raw food workshops, surf lessons, DIY activities, and other cultural adventures. Above all, customers left with lasting memories and new friendships that will stay with them forever. Coverage from the retreat appeared in the brand's August 2015 Magalog, The Great Escape.
Free People is excited to announce its entrance to the travel category and looks forward to seeing how the business develops. To keep an eye out for future retreats, be sure to check in regularly at http://www.FreePeople.com/fpescapes.
For more information, images, to request an interview, or to discuss a TV opportunity, please call Katerina Patouhas at 215-454-3871 or email kpatouhas(at)freepeople.com.
###
About Free People
Free People is a specialty clothing brand featuring the latest trends and vintage collections for women who live free through fashion, art, music, and travel. The eclectic look consists of quality apparel, shoes, and accessories that invoke attributes of femininity, spirit, and creativity with its design. Free People is distributed globally via direct channels including the Free People Global site, the Free People UK site, and the Free People China site as well as specialty boutiques, top department stores, and the brand's free standing retail locations in the U.S. and Canada.
About Yogascapes
YOGASCAPES is today's premier yoga and wellness experiential travel brand, worldwide. Combining handpicked destinations across the globe and a curated selection of today's most celebrated adventure guides and wellness gurus, each YOGASCAPES retreat is a one-of-a-kind experience like none other. Founded in late 2013 by two long time yoga-industry professionals the brand has been celebrated in major press outlets such as Time, Shape, The Huffington Post and more.