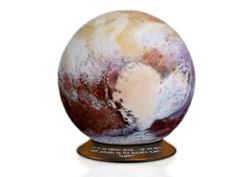 People are looking for cremation urns that are created uniquely for their loved one, not for anybody else
(PRWEB) March 15, 2016
The interview, which is titled "Death Won't Do Us Part" is available at http://www.urnsinstyle.com/custom-urns-planet-pluto-interview.aspx. It reveals Maryrose Forsyth's journey in deciding on cremation and funeral pre-planning, and how a custom-made cremation urn for ashes was designed to symbolize the "after-life" destiny she and Peter, her beloved fiancé, wanted to share together.
With that goal in mind, Urns in Style worked closely with Maryrose to craft a custom urn designed to resemble the planet Pluto; Maryrose and her fiancé Peter were captivated by the "heart" that has been discovered as a pattern on the actual planet, and the urn was designed to hold the ashes of both Maryrose and Peter.
"I wasn't sure if anyone could do such a specific yet random request," Maryrose remembers. "But in talking to Urns In Style, I quickly learned about the company's unlimited capability to create anything that I wanted. It was never a problem to make any and all changes until I was satisfied! I wish every company would be this accommodating!"
And when asked to share how her fiancé reacted to opening the uniquely romantic wedding gift, Maryrose noted the following:
"I gave it to Peter late in the evening of our wedding day. We were talking about our day, and I took out this wrapped up box. I told him I hoped he would like this special gift and that many people worked hard on it. When he opened it up, he could not believe it! He thought it was perfect, thoughtful and beautiful! He hoped we had many years together before we needed to use it, but he said it would make a great art piece in the meantime. It was a lovely moment that we both shall remember, and hoping to give us peace both in the living moments and after that!"
Urns In Style's Principal, Michi Kustra adds: "As cremation has become a mainstream choice, we are witnessing a rapidly-growing demand from consumers who seek cremation urns that are created uniquely for their loved one, not for anybody else. At Urns In Style, we believe that a cremation urn is not a "container." Rather, it should symbolize a personal story about what made a person special and eternally celebratory. We are honored to be chosen as the source of a memorial urn to epitomize the everlasting love and partnership between Maryrose and Peter."
For all other information including media inquiries, contact Michi Kustra at (888) 506-2685 or contact(at)urnsinstyle(dot)com.
About Urns in Style
Urns In Style is a leading purveyor of highly-curated cremation urns in the market, and is committed to providing superior choices in aesthetic design and quality. Because the company believes in the importance of a cremation urn that distinctively celebrates and personalizes a loved one's life, its cremation urns are created by handpicked artists to be truly one-of-a-kind, exclusive offerings. Urns In Style also offers "Design your own" services through its vast network of artists in all different art disciplines and materials – from ceramic, wood, to metal and glass. The company provides a wholesale program for funeral directors, funeral product and service distributors, and other funeral industry professionals.
Learn more at http://www.UrnsInStyle.com