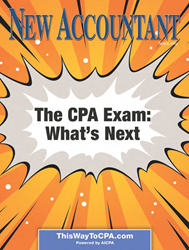 There is a lot of prestige that comes with being a CPA
Chicago, Illinois (PRWEB) March 15, 2016
New Accountant Magazine, since 1985, a trusted professional journal for college accounting students with topical articles of interest written by college accounting professors and industry professionals, has released its latest issue, available both in print and online.
This issue of New Accountant dives into the obstacles and changes that are in store for an aspiring accountant. It focuses on what one should look for with the modifications coming to the CPA exam, the stressors that come from the recruiting process and finding a job, and how a quiet individual can still excel in an accounting career.
"There is a lot of prestige that comes with being a CPA. They are an elite group of professionals with rigorous technical and academic training," says Steven N. Polydoris, New Accountant Editor & Publisher, "and having a CPA license is an excellent way to stand out in a crowd of potential employers."
In the featured cover story, "The CPA Exam: What's Next" by Rebecca Doel and Ken Tysiac, AICPA, the authors provide insight on the AICPA's changes to the Uniform CPA Examination. Authors say, "these proposed changes have been crafted, not to make the CPA Exam harder to pass, but rather to reflect the profession's evolution and keep the exam in step with the profession."
Although job openings have been spotty in many professions since the last recession, accounting graduates have been in high demand. Hiring of new accounting graduates by public accounting firms reached record levels according to the AICPA report Trends in the Supply of Accounting Graduates and the Demand for Public Accounting Recruits.
The authors note that the research showed that the "profession supports changes to the exam to enhance testing of higher-order skills and ensure it remains aligned with the types of tasks newly licensed CPAs perform regularly."
Rick Niswander, CPA, CGMA, Ph.D outgoing chairman of the AICPA Board of Examiners and Vice Chancellor for Administration and Finance at East Carolina University in Greenville, NC says, "new licensed CPAs have needed to have those skills for years and years and years. It's just that the demand for having more of those has increased."
Find out about the tax gap in "Mind the Gap… The Schedule C Tax Gap" by Ashley Mead, Masters of Accountancy Candidate, Valdosta State University and Ronald Stunda, Ph.D, CPA, CMA, Professor of Accounting Valdosta State University. The authors note the significant increase in the size of the tax gap in just a few years, and give readers insight on what may be causing this tax gap.
Find relief from the stress of recruiting and find a job from, "Recruiting: It Could Happen to You" by Dr. Russell (Rusty) Calk, Ph.D. CPA, Associate Professor of Accounting, Texas A&M University – Central Texas, Dr. Pamela S. Carr, Ph.D., CPA, Professor of Accounting, Arkansas Tech University, and Dr. Cindy Seipel, Ph.D., CPA, CFE, Professor of Accounting, New Mexico State University. The authors break down mistakes they have seen and lessons learned from those mistakes by providing four real situations.
More career advice can be found in, "Career Success for the Quiet New Accountant" by Jeffrey F. Shields, Ph.D, Assistant Professor of Accounting, University of North Carolina at Asheville, Joyce M. Shellman, Ph.D., Adjunct Professor of Management, The Graduate School, University of Maryland University College, and George Violette, Ph.D., CPA, Teaching Professor, Wake Forest University.
Learn more about attitudes towards money in, "The Accountant and Money: A Complicated Relationship" by Sherry Mills, Ph.D., CPA, Professor of Accounting, New Mexico State University, Cindy Seipel, Ph.D., CPA, CFE, Professor of Accounting, New Mexico State University, and Martha Doran, Ph.D., Associate Professor of Accounting, San Diego State University.
Featured advertisers include The A. Gary Anderson Graduate School of Management UC Riverside, AICPA Legacy Scholarships, Georgia Southern University, Post University, Rutgers Business School, ThomsonReuters, University of South Dakota, and WeiserMazars LLP.
About: Published since 1985, New Accountant is a professional print and online publication edited for college accounting students to prepare for a career in accounting, auditing, and industry. For more information, visit http://www.NewAccountantUSA.com, email inquiries(at)newaccountantusa(dot)com.